New Printing Friends
We rolled out a new EZPi image with many new features, plugins, and OS updates. One of the new plugins that is pre-installed is one called The Spaghetti Detective. The Spaghetti Detective (aka TSD) does multiple things, and we think it's a great plugin for our users to check out. As an added bonus, all EZPi kits now come with a card in the package that has a discount for EZPi customers.
We've been working closely with Kenneth and his team over at TSD to make sure our EZPi kits and accessories (EZCam HD) work great with their service. Included in every EZPi kit you'll find an info card about TSD and their awesome service. They will also be cross promoting our EZPi kits for those who want a ready to run OctoPrint kit.
We are not receiving any monetary compensation or affiliate type things for promoting their plugin. We saw that this plugin will make remote access easier for our EZPi users and give both of us a chance to give each other some exposure for their products. We hope you all like this awesome plugin and service that Kenneth and his team put together.
Remote Access & Print Failure Detection
This plugin allows for remote access to your EZPi/OctoPrint installation with NO port forwarding or using a VPN to connect into your network. They have a free service that is for up to 1 printer and up to 10 hours of their AI "spaghetti" detecting software. This is a cool plugin that helps save on materials when a print is failing and also provides a secure method of controlling your printer from anywhere in the world.
Activating The Spaghetti Detective
If you are using our EZPi Pro V2 image, all you must do is click the "wrench" at the top of your EZPi web interface and then select "Access Anywhere – The Spaghetti Detective" on the left hand side.

Once selected, just click the "Run Setup Wizard to Link OctoPrint" and follow the onscreen directions to get setup.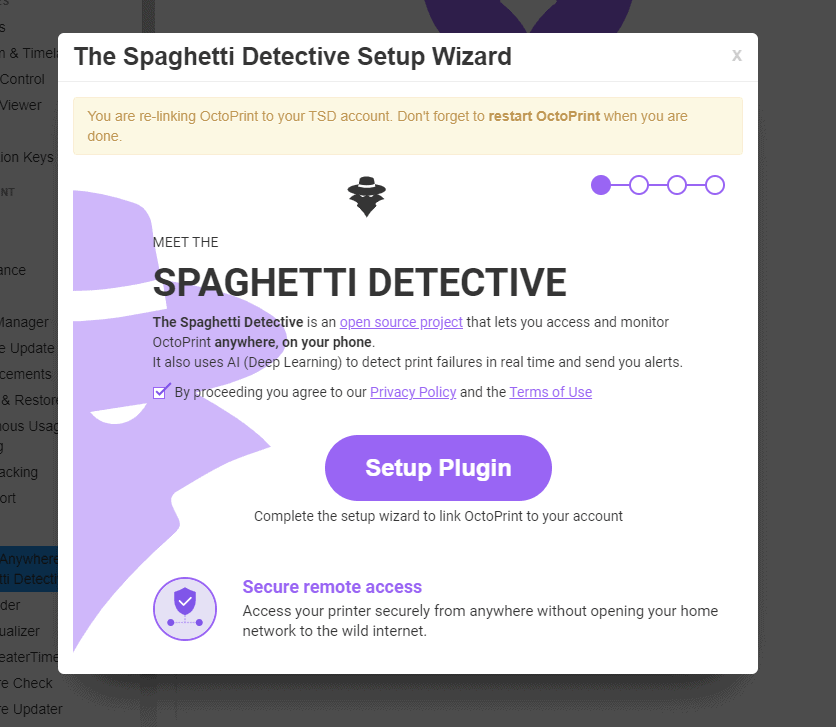 Mobile Friendly
They also have an Android App and IOS App for accessing your EZPi kit on the go.