We're proud to announce that the 1st batch of boards that were made are ready to be moved into full scale production. We've completed over 200 hours of printing on the retail board version as well as 1000+ hours on the prototype. All firmware is working, thermal testing passed, and load testing passed.
We are getting boards into production tomorrow and the ETA for them is about 2-3 weeks pending no more world collapses happening.
If you are interested in the EZBoard V2 please leave a comment below to let us know your interest as we're trying to accurately gauge how many boards we should run off to meet demands. All our boards will be at the $129.99 price point even after accounting for inflated part prices. Unlike other vendors who are using clone CPUs on their boards, we are sticking with Genuine STM32 CPUs for these.
The EZBoard V2 is already supported in our EZFirmware website for super EZ and quick (under 20 seconds to build) firmware builds at no additional cost to you and will come with our awesome technical support including helping you complete your upgrade.
Below are some pictures from our thermal camera doing the 15A load testing on the bed. The results are very impressive and on par with our V1 board (as they should be as they share the same design on that part).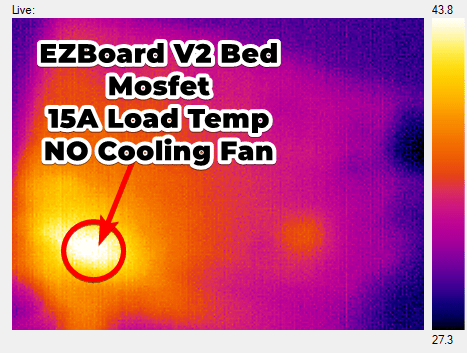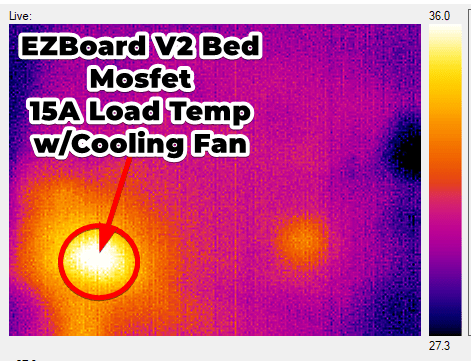 While the EZBoard V2 is fused at 15A we have pushed this board to over 30A for 2+ hours with no damage or failure to any components of the board. We want these boards to last and building them to withstand well past their rated limits means you will have a cool running board for years to come.
Thank you, everyone, for your support and we're very excited to bring the V2 of our EZBoard to market. Those of you wanting a 5-driver for dual extrusion will have to wait until at least next year when we can get CPUs to work with a 5 driver board.