DIY Firmware | BTT SKR 2 Board | BETA
DISCLAIMER
This firmware is being put out as a courtesy for people who want to use the BTT SKR 2 in their custom printer. Setup and usage of this firmware is *not* covered under the technical support of any TH3D Products. Using the BTT SKR 2 in a custom printer is an advanced setup for users who know what they are doing.
This firmware is a BETA as we do not have the board to test on. We have tested that the firmware compiles with various options enabled. If you encounter a bug please submit it to our Unified 2 Bug Reporting form or on the #Firmware channel of our Discord server.
Important Information
Z Homing Direction – This firmware only supports homing Z to the MIN position (not MAX) at this time.
MicroSD Card Flashing – This board uses a MicroSD card to flash. If you are having issues getting the board to accept the firmware then see this page for details on making sure you are using the correct type and format of card: Flashing Firmware MicroSD Recommendations
CPU Types – Due to the shortage of MCU, SKR-2 has two versions with STM32F407VGT6 and STM32F429VGT6. Download the correct firmware for the CPU your board has. Using the incorrect firmware on the incorrect CPU can brick your board.
Each CPU has a different Build folder where the firmware.bin file is located. They are noted below in the firmware steps.
---
Download
We also recommend you download the Unified 2 STL pack as well. This contains EZABL mounts, Gantry leveling Blocks, Solid bed mounts, and Bed Level test files. Click here to go to the Unified 2 STL Pack download page.
---
Installation Directions
1 – Printer Board Firmware Update
1.a – Setup VSCode with our installation guide
1.b – Download the firmware
1.c – Extract the files to a folder on your computer
1.d – Open the folder labeled "Firmware" in VSCode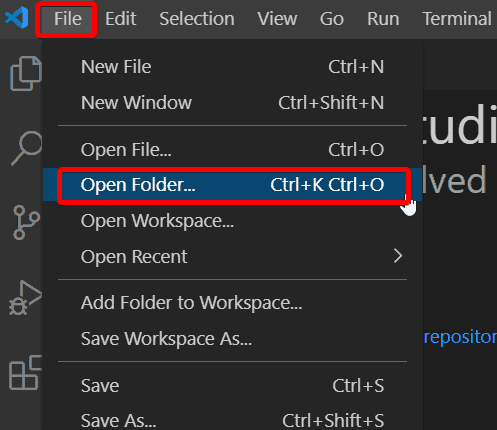 1.e – Open the Configuration.h file that is located under the "Marlin" folder on the left side of the VSCode screen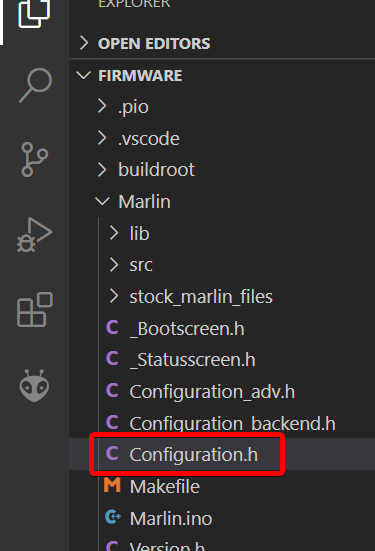 1.f – In the Configuration.h file set all your machine options that are for your specific machine. There are directions in the file itself on how to determine different settings and values to use for your custom printer setup.
1.g – Click the ✓ at the bottom of VSCode to compile the firmware. The firmware will compile. This may take 1-5 minutes depending on the speed of your computer and internet connection

1.h – On the left side of VSCode expand ".pioenvs" until you see the BIGTREE_SKR_2/BIGTREE_SKR_2_F429 folder. Right click on the BIGTREE_SKR_2/BIGTREE_SKR_2_F429 folder and click "Reveal in File Explorer"

1.i – In the file explorer open the BIGTREE_SKR_2/BIGTREE_SKR_2_F429 folder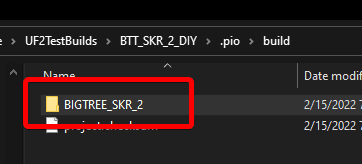 1.j – Look for the latest firmware.bin file and copy that to your SD card. This SD card must be FAT32 formatted.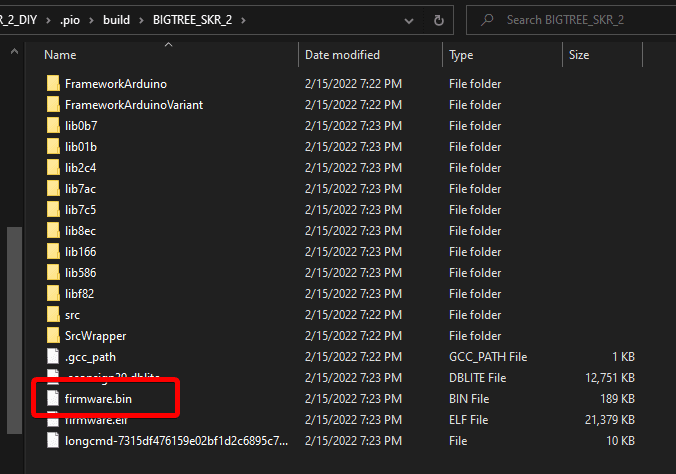 1.k – Power OFF your printer and Insert the SD card with the latest firmware.bin file into your printer. Turn the printer on. It will take a little longer than normal to boot up.
1.l – When the printer boots you will see the TH3D logo on your LCD. Make sure to reset your EEPROM on your printer after flashing any firmware. You can do this from your printer LCD or by sending a M502 followed by M500 with your favorite Gcode sender application.
---
Legal Disclaimer
THIS FIRMWARE AND ALL OTHER FILES IN THE DOWNLOAD ARE PROVIDED FREE OF CHARGE WITH NO WARRANTY OR GUARANTEE FROM TH3D STUDIO LLC. SUPPORT IS NOT INCLUDED JUST BECAUSE YOU DOWNLOADED THE FIRMWARE.
TH3D STUDIO LLC IS NOT LIABLE FOR ANY DAMAGE TO YOUR PRINTER, PERSON, OR ANY OTHER PROPERTY DUE TO USE OF THIS FIRMWARE. IF YOU DO NOT AGREE TO THESE TERMS THEN DO NOT USE THE FIRMWARE.
---
Changelog Information
We do not maintain a full change log for this firmware. However, you can track all changes and modifications to our firmware code on the GitHub repo for Unified 2 Firmware.