Smooth, Accurate, Consistent, and Reliable
We have been using COEX filament in-house for over 3 years now. We have never had issues with their rolls breaking like other cheaper filament brands and we always get consistent print results from their products. We're excited to be carrying their filament as we believe they are one of the best filament manufacturers around. Their filament is made 100% right here in the USA in Wisconsin. We're confident that you will love their ABS and get consistent, high-quality prints from it. Consistency and quality are paramount for us when we are running a printer farm, COEX filament allows us to know that we will get the same results from roll to roll every time.
Recommended Print Settings
Print on a solvent-cleaned surface heated to 85°C-110°C
Recommended print temperature 245°C-295°C
Part cooling fan is not recommended. It may cause layer delamination.
Start retraction at 1-1.5 mm at 10-30 mm/sec for direct-drive extruders and 2.5 mm at 30-35 mm/sec for indirect-drive extruders.
A hardened nozzle is recommended for glass or carbon filled CoexNylex™.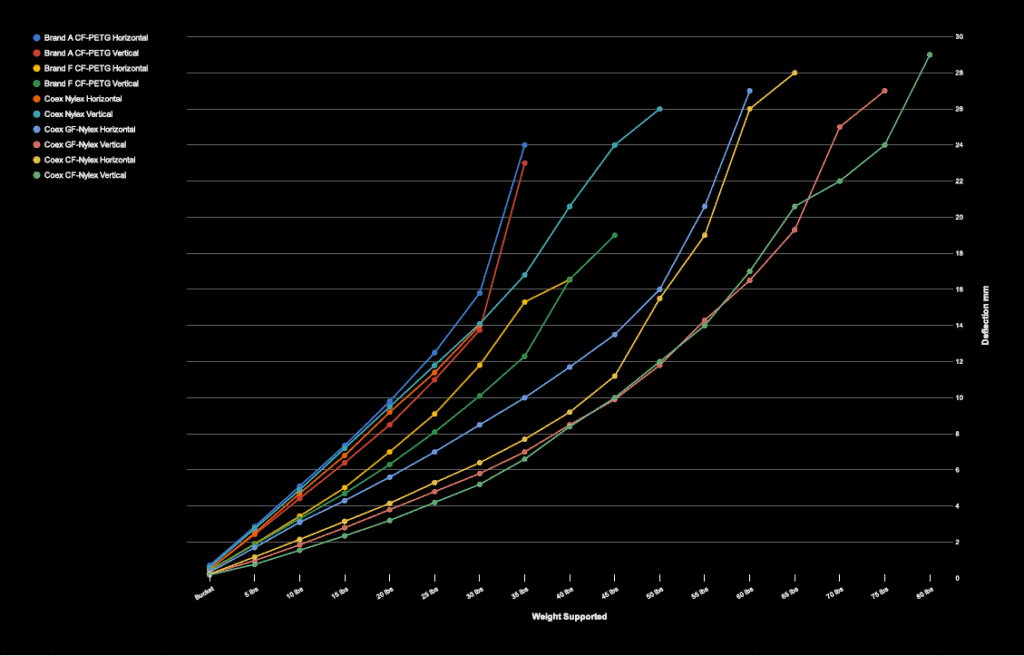 *Graph courtesy of Ryan Laffin; Nylex Customer Test Participant
---
COEX Support - If you need help tuning/using your COEX filament please contact them through their web form here: Contact Us l 3D filament l COEX LLC. If you have a return or warranty request then contact our support team.
Filament Support Information
Help Center - If you need help tuning a filament or want recommended print temperatures you can check our filament section of our Help Center here: Filament - TH3D Studio LLC
Filament Handling
When handling filament the end should be:
On the spool

In your hand

Loaded in the printer
Do NOT let the end of the filament go when handling it as you can cause the spool to tangle. Filament cannot tangle on its own. Returns/refunds will not be issued if you tangle a spool. Due to how filament is spooled onto the roll it is impossible to get a tangled spool from a new spool.