This is a FULLY assembled Filament sensor kit for the LDO Orbiter V2 extruder. Works with Marlin, Klipper, and Rep-Rap Firmware. See the full details link for documentation from the product creator below.
Full details from the Oribter Project here: https://www.orbiterprojects.com/orbiter-filament-sensor/ 
Unified 2 Firmware Setup
This sensor works with the existing EZOUT_ENABLE and other EZOut filament sensor settings. You will connect Blue to GND, RED to the 3.3-5V, and Green to Signal on your board. So if you do not see "LDO_FILAMENT_ENABLE" in our config then use the EZOut option and connect this sensor to the same header that the EZOut would have connected to on the control board. This means that if you are replacing an EZOut sensor the cross reference of this sensor wire colors to ours is as follows:
EZOut wire color: RED -> LDO wire color: RED
EZOut wire color: BLACK -> LDO wire color: BLUE
EZOut wire color: WHITE -> LDO wire color: GREEN
Unload Button – Some boards may also have support for the unload button on this sensor. If that is the case you will need to locate a spare IO pin on your board (many limited boards to NOT have extra IO pins) and then setup the firmware to tell it what IO pin you used. Some IO pins may not work on some boards. If a board is known to work as well as a pin it will be noted inside the firmware and you will see a LDO_FILAMENT_UNLOAD_PIN option as well as a pin that has been tested to work. If that is absent from the config file, then that board is not supported to work with the Unload button on this sensor at this time.
Wiring Information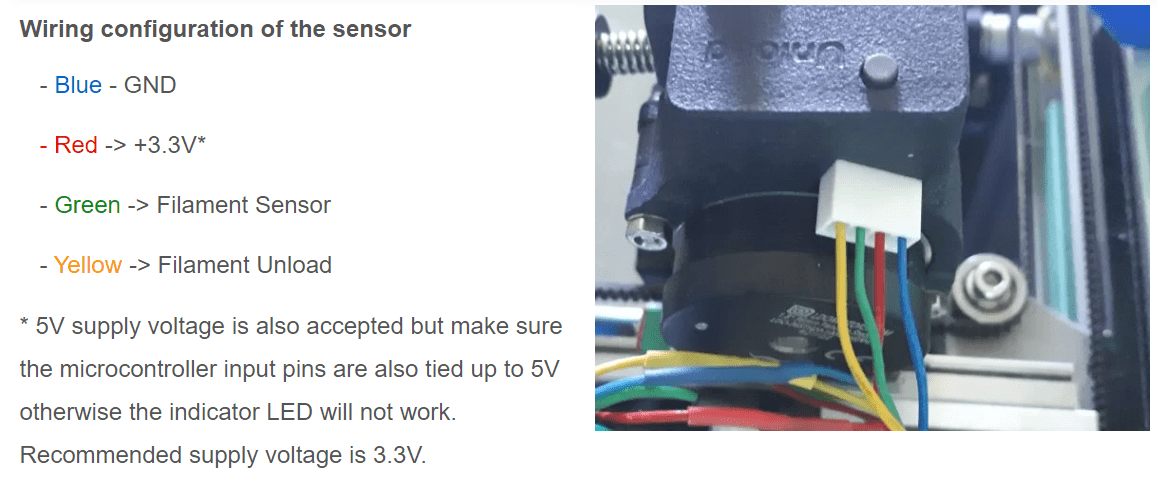 DIY Part Fitment/Installation/Wiring
This is a universal DIY 3D printer part. That means it will work on almost any 3D printer, but you must know what you are doing.
Our technical support does not cover selecting/designing/assisting in firmware setup and/or 3d models to install this part on your printer. If purchased as part of a kit from TH3D for a particular printer, then it will be covered under the kit when using our firmware package.
Electrical replacement parts usually will require you to splice wires into your existing ones for the part you are replacing (soldering and heat shrinking wire splices is recommended for proper connection).
Some of our universal electrical parts come with bare wire ends or plugs on them. These ends may or may not directly plug into your 3D printer. If they do not, you will need to splice the wires into the existing ones on your 3D printer.
Warranty Information
3 Months Warranty -  Our warranty covers any and all defects with the product. If your product fails or has problems within the warranty period you can contact our support team by using the Contact Us link. Technical support is limited to the scope of the product itself and not your entire machine.
Damage/Failure due to improper installation, improper usage, failure resulting from an issue with the machine the product is installed on, 3rd party products connected to our product, and/or modification of the product are not covered under warranty.