What is included?
MKS Monster 8 V2 Board
8x MKS TMC2209 Drivers w/UART Support
8x Large Driver Heatsinks
Jumper Pack
USB C Data Cable
Unified 2 Firmware for the MKS Monster 8 V2

+6 Months of firmware updates

6 Months of Unified 2 Firmware technical support included.
TH3D Designed Enclosure STLs Included in the Firmware Pack
Details about how to use the firmware and setup the board are located in our help center here: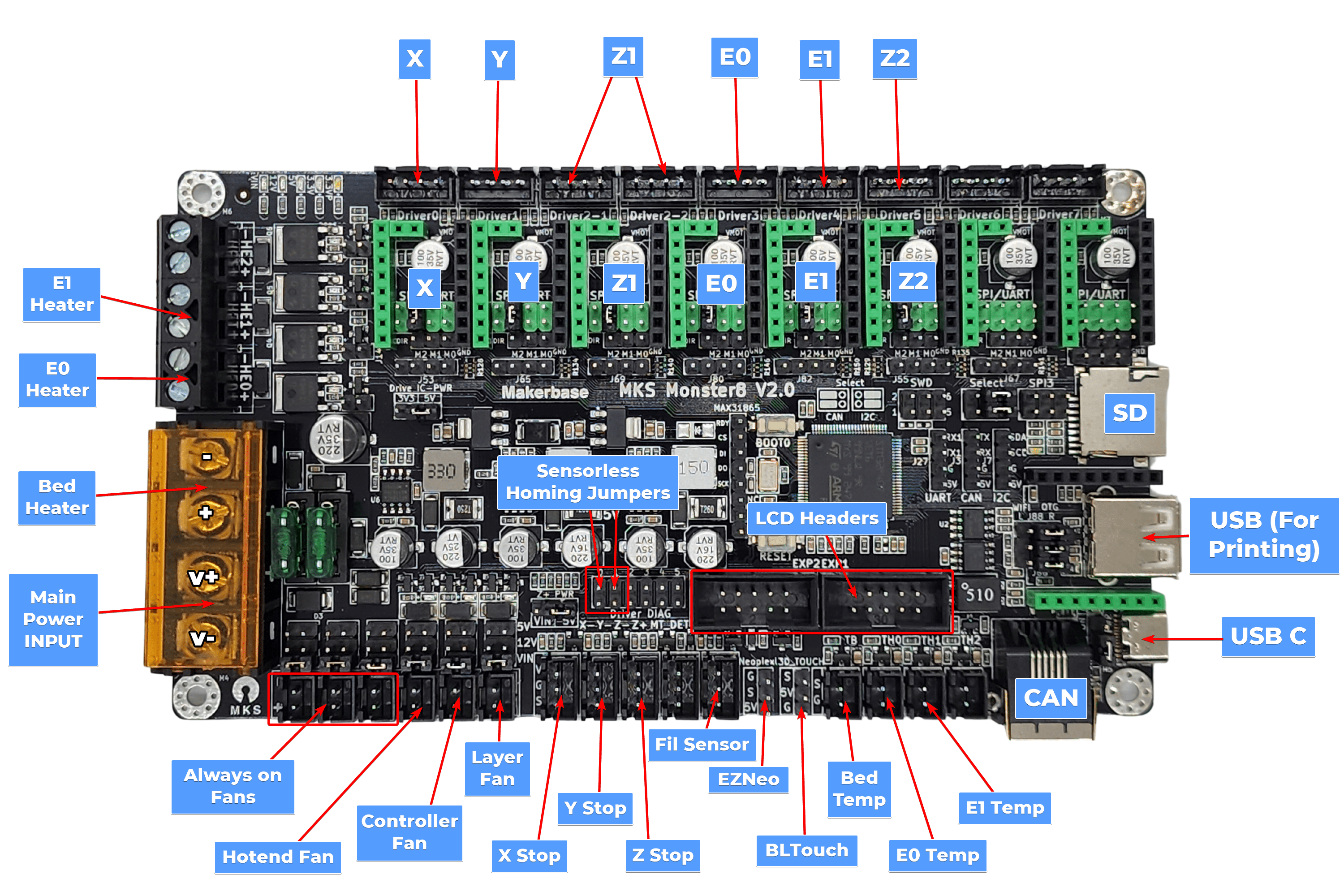 Hardware (From MKS Specs)
MCU is STM32F407VET6, 168MHz, 512K flash, 192KB RAM
Firmware Compatibility – Marlin, Unified 2, Klipper
DC12-24V input(2 MP1584EN Output DC12V(For FANs) and DC5V)
4 heaters + 4 temps interface(H-BED,HE0,HE1,HE2; TB, TH0,TH1,TH2)
3 PWM FANs + 3 power output(all power can be select by jumper and select VIN, dc12V, dc5V)
8 axis drivers and 9 motor interface(Driver0,1,2-1,2-2,3,4,5,6,7)
EXP1,EXP2 support MKS MINI12864,MKS TS35,LCD12864,LCD2004
USART(usart1:PA9,PA10) support MKS H43 or for other serial communication
6 endstop support power select(X-,X+,Y-,Y+,Z-,Z+) and 3D TOUCH(PA8) interface
4K eeprom on board(connect to I2C)
Built-in CAN transceiver and interface(connect to CAN)
Integrated SPI communication microsd card and reserved SPI signal interface
Integrated UDISK
Integrated virtual USB device
Support TMC UART and SPI mode, SENSORLESS_HOMING function(Diag0-5,connect to X-,Y-,Z-,X+,Y+,Z+)
Support driver power select(5V or 3.3V)
Has TVS power spike protection
Support DFU mode set by button(Boot0)
DIY Board Fitment/Installation/Wiring
This is a universal DIY 3D printer board. That means it will work on almost any 3D printer, but you must know what you are doing.
Our technical support does not cover selecting/designing/assisting with 3d models to install this part on your printer. Firmware support is covered with DIY Boards like this one and our DIY firmware is included.
Electrical replacement parts usually will require you to splice wires into your existing ones for the part you are replacing (soldering and heat shrinking wire splices is recommended for proper connection).
Some of our universal electrical parts come with bare wire ends or plugs on them. These ends may or may not directly plug into your 3D printer. If they do not, you will need to splice the wires into the existing ones on your 3D printer.
Warranty Information
6 Months Warranty -  Our warranty covers any and all defects with the product. If your product fails or has problems within the warranty period you can contact our support team by using the Contact Us link. Technical support is limited to the scope of the product itself and not your entire machine.
Damage/Failure due to improper installation, improper usage, failure resulting from an issue with the machine the product is installed on, 3rd party products connected to our product, and/or modification of the product are not covered under warranty.