You asked we listened! – People were asking us to come out with our own high-quality precision screwdriver set for working on your printer and other electronics. We came up with this kit that has super durable bits made from S2 tool steel (not CRV) that will last you a long time.
The driver itself is magnetic and includes a removable extension (also magnetic). There is a hole on the handle to put the extension through to get more torque if you have a stubborn screw. There is also a 1/4″ Driver adapter to use these bits in a larger handle (do NOT use with an impact driver).
The case that holds all of these has a metal locking buckle to keep it shut so you don't lose the bits and a spring-loaded bit lifter to make getting what bit you need quick.
Full List of Bits Included
Bit Type
Size
Phillips
PH000
PH00
PH0
PH1
PH2
Flathead
1.0
1.5
2.0
2.5
3.0
4.0
Hex
0.7
0.9
1.3
1.5
2.0
3.0
4.0
4.5
5.0
6.0
Nut Driver
2.5
3.0
3.5
4.0
4.5
5.0
5.5
PH2
Torx
T2
T3
T4
T5
T6
T7
Torx(Security)
T8
T9
T10
T15
T20
Square
SQ0
SQ1
SQ2
Pentalobe
0.8
1.2
1.5
Tri-Blade
0.6
2.0
2.5
Triangle
2.0
3.0
Spanner
2.6
3.0
SIM Ejector
0.8mm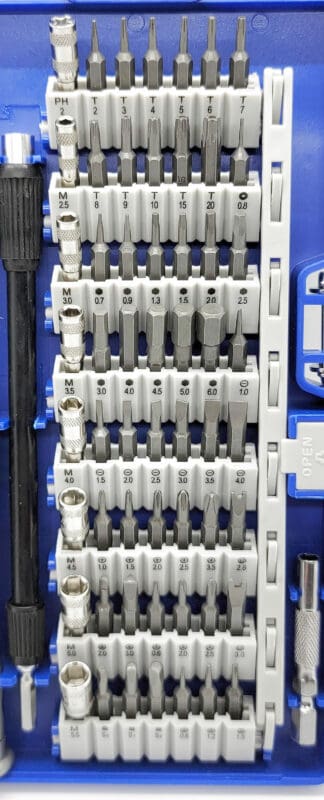 Warranty Information
3 Months Warranty -  Our warranty covers any and all defects with the product. If your product fails or has problems within the warranty period you can contact our support team by using the Contact Us link.
Damage/Failure due to improper installation, improper usage, failure resulting from an issue with the machine the product is installed on, 3rd party products connected to our product, and/or modification of the product are not covered under warranty.