Get Tough, Reliable Extrusion
Our Tough Extruder is a geared and guided extruder to ensure that your filament feeds accurately and smoothly. This extruder is also great for most TPE/TPU filaments thanks to its tight filament path that doesn't leave large gaps for the flexible filament to escape. It is our go-to for a solid extruder upgrade for our printers.
This is a tried and true design that is made using the "Titan" Open Source design under the GPL V3 license. These are made by the same factory as TriangleLabs products, with additional QC done by the TH3D team before they go out to our customers. This extruder is NOT made by E3D, but is compatible will all "Titan" installations and mounts.
Part List
3x Allen Keys for Assembly
1x 1.75mm Bowden Adapter
1x Polycarbonate Lid
1x 1.75mm White Filament Guide
1x Main Housing (ABS Plastic)
1x Steel Shaft gear
1x Steel Hobbed gear
1x Tension arm
3x Bearings (2 for hobbed gear, 1 in filament arm)
1x PTFE for filament arm
1x M4 x 9mm Thumbscrew
1x M4 x 9mm Screw (For use in place of thumbscrew)
1x M3 x 8mm (Screw under fitting)
1x M3 x 25mm (Screw for Cover)
3x M3 x 30mm (Screws for attaching to motor)
3x M3 x 35mm (Screws for attaching to motor, extended)
Firmware Setup
Firmware update or flipping motor wiring around are usually required to reverse motor direction. Geared extruders typically require the motor direction to be reversed on machines that have feed gears that mount directly to the stepper motor shaft.
Recommend Esteps: 410 Steps/mm for most machines
Supported in the TH3D Unified Firmware Packs
Tension Adjustment Note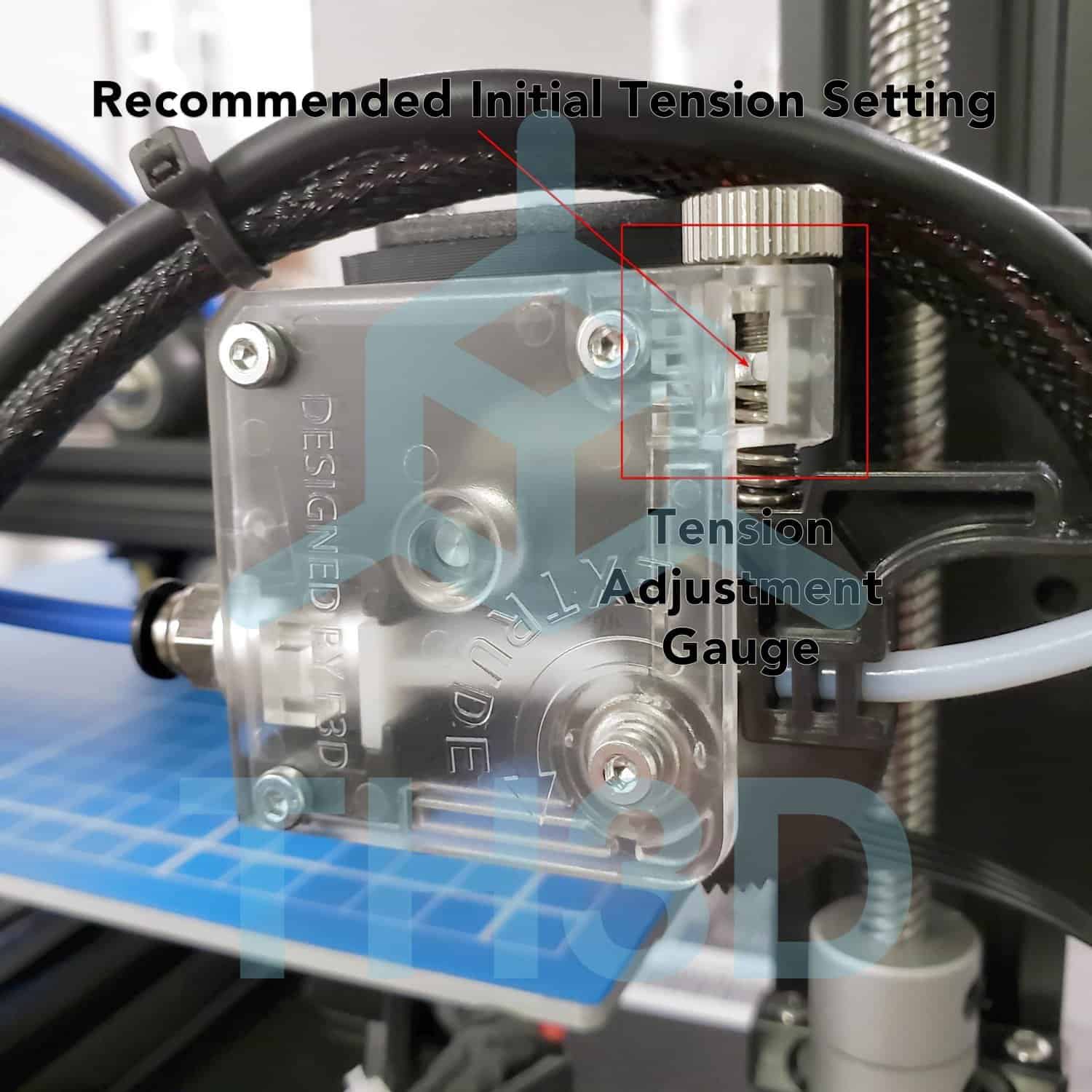 If you are using your own firmware invert the E direction and we recommend starting with 410 steps/mm and stick with 1/16 stepping on the driver if you have a selectable driver (double the steps/mm if using a 0.9 degree motor, stock printer motors are 1.8 degree).
CR-10/CR-10S/CR-20/Ender 2/Ender 3/Tornado
Compact: https://www.thingiverse.com/thing:2274222=
Extended: https://www.thingiverse.com/thing:2474855
Cable Guide: https://www.thingiverse.com/thing:2690953
Part Fitment/Installation
This is a universal 3D printer part. That means it will work on almost any 3D printer (check your printer voltage and part voltage) with the correct mount for your specific machine. Thingiverse is a wonderful place to locate mounts and we also have printed parts in our shop for some universal parts.
It is up to you to determine and select a mount for your specific printer model (or design one) to install this part on your machine and wire it up to your machine (if applicable). You are welcome to Contact Us for recommendations for your particular printer model for mounting options that are available online if searching yourself does not yield any results.
Warranty Information
3 Months Warranty -  Our warranty covers any and all defects with the product. If your product fails or has problems within the warranty period you can contact our support team by using the Contact Us link.
Damage/Failure due to improper installation, improper usage, failure resulting from an issue with the machine the product is installed on, 3rd party products connected to our product, and/or modification of the product are not covered under warranty.