Essential Creality PTFE Upgrade Pack
The essential pack to upgrade the low end PTFE parts on your Creality Printer.
New PTFE fittings for the hotend and stock extruder that will last and grip.
High temp (print up to 275C), accurate, and slick PTFE tubing for accurate and smooth filament guidance.
Related products
Rated 5.00 out of 5
$

9.99
Rated 4.88 out of 5
$

69.99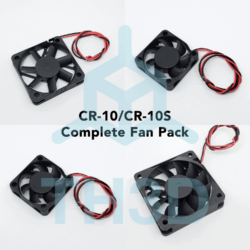 Sorry, we are currently out of stock.

Click Add to Wishlist to be emailed when we re-stock this item.
Rated 5.00 out of 5
From:
$

51.96
Rated 5.00 out of 5
$

14.99
Rated 5.00 out of 5
From:
$

54.99
Rated 4.92 out of 5
$

8.99 –

$

35.99