What is this thing?
Need multiple? Save with our 5 Pack Bundle here: 5 PACK – IRF520 MOSFET Module
This is a simple MOSFET module that you can use to control 5-24V devices from an IO pin. This can be connected to a printer control board, ESP8266/ESP32, Raspberry Pi, or any device with a 3.3-5V signal output. Only the SIG and GND pins are needed to operate the device. We use these for controlling fans and light strips for 3D printers and even home automation devices. Do not use this for driving a higher load device like a hotend heater or heated bed. This is for smaller devices like fans or LED lighting strips. Please do not purchase this module unless you understand how to wire it up with the information given below.
Technical Information
Load Voltage: 5-24V
Load Amperage: <3A
MOSFET is the IRF520
Compatible Mounts
Schematic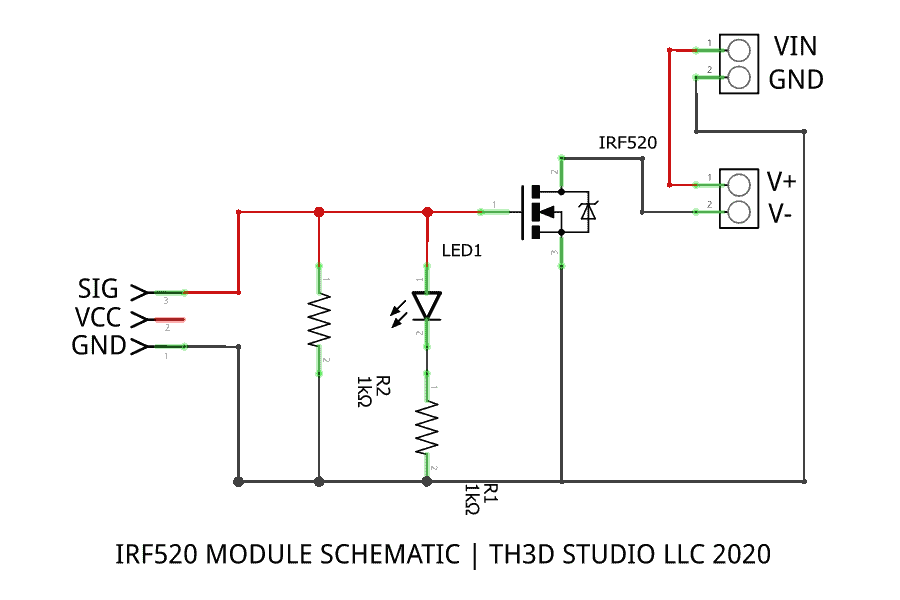 Dimensional Drawing from Supplier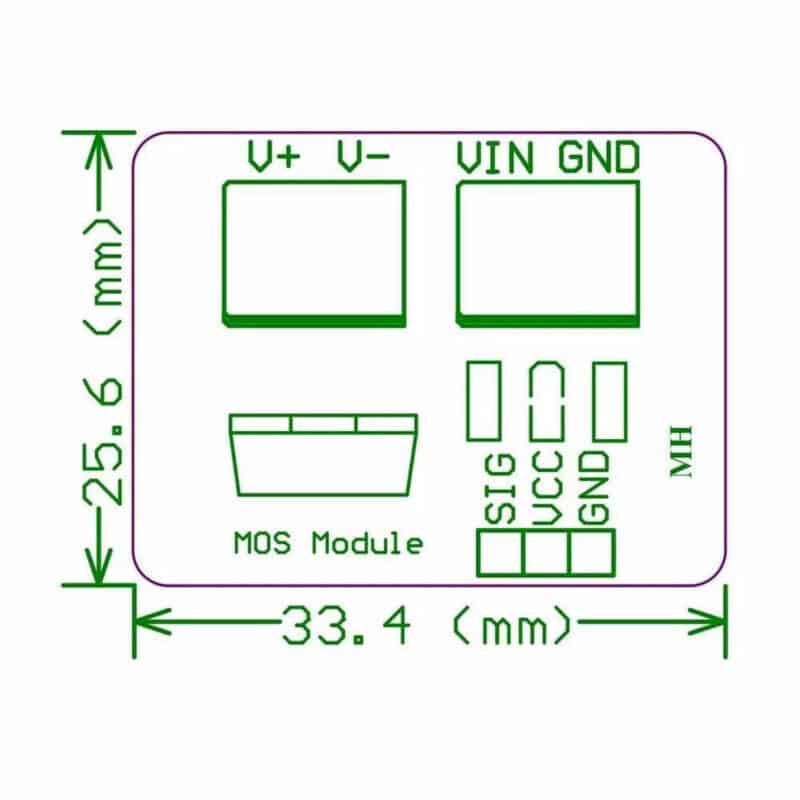 DIY Part Fitment/Installation/Wiring
This is a universal DIY 3D printer part. That means it will work on almost any 3D printer, but you must know what you are doing.
Our technical support does not cover selecting/designing/assisting in firmware setup and/or 3d models to install this part on your printer. If purchased as part of a kit from TH3D for a particular printer, then it will be covered under the kit when using our firmware package.
Electrical replacement parts usually will require you to splice wires into your existing ones for the part you are replacing (soldering and heat shrinking wire splices is recommended for proper connection).
Some of our universal electrical parts come with bare wire ends or plugs on them. These ends may or may not directly plug into your 3D printer. If they do not, you will need to splice the wires into the existing ones on your 3D printer.
Warranty Information
3 Months Warranty -  Our warranty covers any and all defects with the product. If your product fails or has problems within the warranty period you can contact our support team by using the Contact Us link. Technical support is limited to the scope of the product itself and not your entire machine.
Damage/Failure due to improper installation, improper usage, failure resulting from an issue with the machine the product is installed on, 3rd party products connected to our product, and/or modification of the product are not covered under warranty.