Details
This is a stepper motor that works for most applications on your 3D printer. Use it for your X, Y, Z, or E motors. Has a long shaft (about 22mm) for using it with geared extruders, like our Tough Extruder or others (Bondtech, Titan, etc)
1 Meter cable included with 4 Pin JST XH plug on the end to connect to most 3D printer boards. 1.8-degree step angle with 1.5A max current rating.
Wiring Notes:
This uses a standard stepper motor plug on most 3D printers. Depending on your stock printer wiring this motor should work on any machine. See below for how the plug is wired. If you connect this to your stock motor plug and it shakes instead of moving then you will need to re-arrange the pins to match the wiring on the included cable.
Black: A+
Green: A-
Red: B+
Blue: B-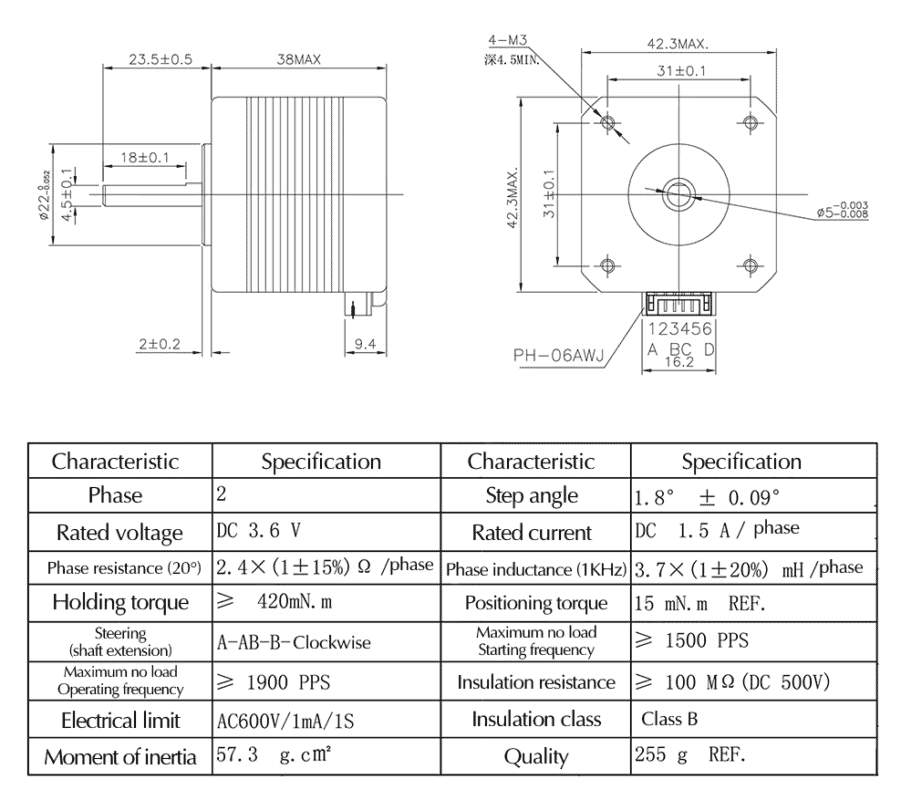 Part Fitment/Installation
This is a universal 3D printer part. That means it will work on almost any 3D printer (check your printer voltage and part voltage) with the correct mount for your specific machine. Thingiverse is a wonderful place to locate mounts and we also have printed parts in our shop for some universal parts.
It is up to you to determine and select a mount for your specific printer model (or design one) to install this part on your machine and wire it up to your machine (if applicable). You are welcome to Contact Us for recommendations for your particular printer model for mounting options that are available online if searching yourself does not yield any results.
Warranty Information
3 Months Warranty -  Our warranty covers any and all defects with the product. If your product fails or has problems within the warranty period you can contact our support team by using the Contact Us link.
Damage/Failure due to improper installation, improper usage, failure resulting from an issue with the machine the product is installed on, 3rd party products connected to our product, and/or modification of the product are not covered under warranty.