Description
Added Bonus EXCLUSIVE to TH3D Customers
Includes a free 3 month or $5 off 1 year of our Unified 2 Firmware package. Coupon will be emailed to you after checkout and will work on ANY Unified 2 Firmware Package in our store here: https://www.th3dstudio.com/product-category/unified-2-firmware/
Get Tough, Reliable Extrusion with our All-New Dual Drive Gear Tough Extruder V2
Our Tough Extruder is a geared, dual drive deal, and guided extruder to ensure that your filament feeds accurately and smoothly. This is NOT a "BMG clone" like you will see on Amazon or other sites. This is a hybrid that takes design queues from the Titan and the BMG extruder designs to make a whole new design that is reliable and easy to use.
Also included is a copy (of your choice) of our Unified 2 Firmware for easy updating of your printer board.
This extruder is also great for most TPE/TPU filaments thanks to its tight filament path that doesn't leave large gaps for the flexible filament to escape. It is our go-to for a solid extruder upgrade for our printers. This now fits on most Creality printers and other printers with NO adapters needed thanks to the cutout in the body to accommodate most leadscrews.
---
Tough Gears Included
Not only are we using DUAL drive gears with a 3:1 gearing ratio that is capable of up to over 30lbs of pulling force, but the gears are also nitrogen treated for long life and low maintenance. The Tough Gears in this new extruder will ensure that they last for years, and filament build up will be less than other non-treated drive gears.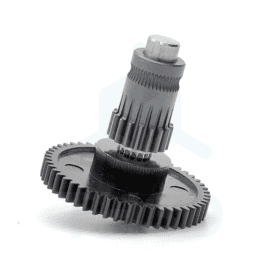 ---
Installation Video
Part List
Tough Extruder V2 Body
Tough Gears – Dual Drive Gears (pre-installed)
Bearings for both drive gears (pre-installed)
Drive Gear Tension Arm (pre-installed)
Thumbwheel w/Spring and Washer for Tension Arm
Bowden Groove Mount Adapter w/Clip
3x M3x35mm Screws – for attaching to NEMA17 Motor
1x Main Brass Drive Gear
Allen Keys for Installation
3″ PTFE Tube for Filament Input Guide (color will vary)
Firmware Setup
Firmware update or flipping motor wiring around are usually required to reverse motor direction. Geared extruders typically require the motor direction to be reversed on machines that have feed gears that mount directly to the stepper motor shaft.
Recommend Esteps: 407 Steps/mm for most machines
EStep Changes and motor direction changes are all supported in the TH3D Unified Firmware.
EStep Calibration – If you wish to further fine-tune and calibrate the extruder once installed on your printer you can use our free EStep Calibration Tool on our site.
Other Details
Works with most Stock Stepper Motor and stock boards.
Some Creality machines are now shipping with press-fit extruder gears. See here for removal tips: Creality Press-Fit Extruder Gear Removal – TH3D Studio LLC
If your extruder shaft is not at least 18mm in length then you will need to upgrade it. Our Pancake Stepper is a great option to go with this extruder. See our article here about identifying the motor you have: Creality Extruder Motor Shaft Lengths – TH3D Studio LLC
This is for 1.75mm Filament ONLY
---
Part Fitment/Installation
This is a universal 3D printer part. That means it will work on almost any 3D printer (check your printer voltage and part voltage) with the correct mount for your specific machine. Thingiverse is a wonderful place to locate mounts and we also have printed parts in our shop for some universal parts.
It is up to you to determine and select a mount for your specific printer model (or design one) to install this part on your machine and wire it up to your machine (if applicable). You are welcome to Contact Us for recommendations for your particular printer model for mounting options that are available online if searching yourself does not yield any results.