These are standard heaters cartridges used in most 3D printers. These are 40W versions and fit most 3D printers. The total wire length for each heater is about 1-meter minimum.
Verified to fit in the following brands & models by us. This is not a complete list. If you have questions about fitment on your particular printer you can use the Live Chat on the site or Contact Us or check the dimensions in the pictures below against your current heater.
Creality Ender 2 (12V)
Creality Ender 2 Pro (24V)
Creality Ender 3/3Pro (24V)
Creality Ender 4 (24V)
Creality Ender 5/5 Pro (24V)
Creality Ender 5 Plus (24V)
Creality Ender 6 (24V)
Creality CR-10 Series (all models) (12V)
Creality CR-10 V2 (24V)
Crealtiy CR-10S Pro (24V)
Crealtiy CR-10S MAX (24V)
Anet A2/A6/A8 (12V)
Anet A8 Plus (24V)
Anet E10/E12/E16 (24V)
Sovol SV01 (24V)
Kingroon KP3 (24V)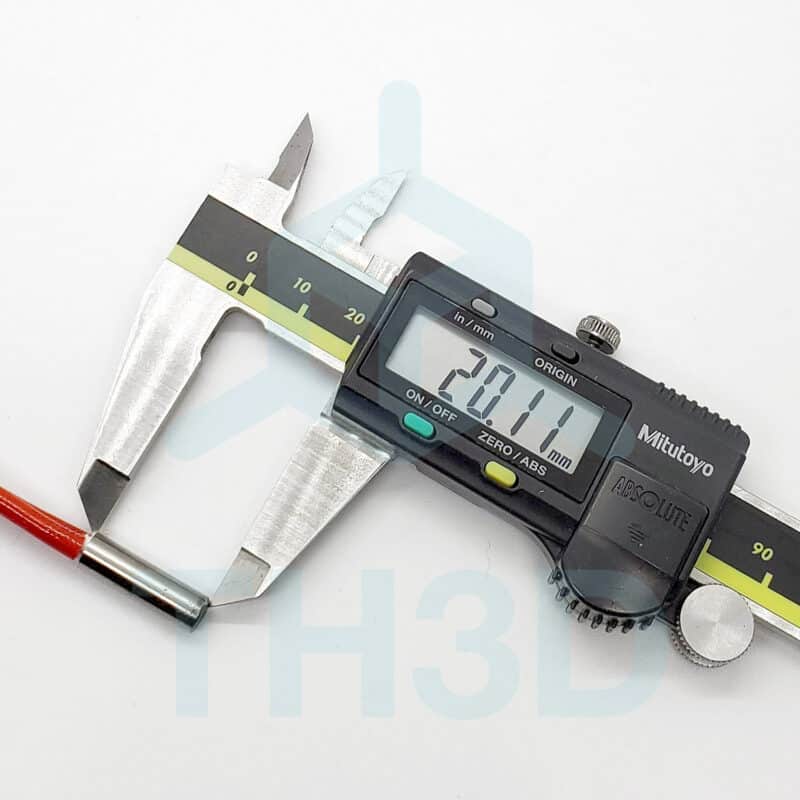 DIY Part Fitment/Installation/Wiring
This is a universal DIY 3D printer part. That means it will work on almost any 3D printer, but you must know what you are doing.
Our technical support does not cover selecting/designing/assisting in firmware setup and/or 3d models to install this part on your printer. If purchased as part of a kit from TH3D for a particular printer, then it will be covered under the kit when using our firmware package.
Electrical replacement parts usually will require you to splice wires into your existing ones for the part you are replacing (soldering and heat shrinking wire splices is recommended for proper connection).
Some of our universal electrical parts come with bare wire ends or plugs on them. These ends may or may not directly plug into your 3D printer. If they do not, you will need to splice the wires into the existing ones on your 3D printer.
Warranty Information
3 Months Warranty -  Our warranty covers any and all defects with the product. If your product fails or has problems within the warranty period you can contact our support team by using the Contact Us link.
Damage/Failure due to improper installation, improper usage, failure resulting from an issue with the machine the product is installed on, 3rd party products connected to our product, and/or modification of the product are not covered under warranty.