EZABL™ Pro – Plug & Print Auto Bed Leveling Kit
From: $64.99
Add auto bed leveling to your 3D Printer with ZERO soldering, modifying your board, or any programming experience!
The fastest, most accurate sensor on the market with amazing tech support included through our TH3D Support Team
2 Sensor sizes available to suit your needs (18mm and 12mm)
Lighter than the competition (up to 50% less weight versus other proximity sensor solutions)
Power from your printer power supply, AC adapter (select below), or USB Port (select below)
Connects to the Z Endstop via 2/3 pin JST plug or 2 pin screw terminal
If you need a sensor mount select one below for the OEM mounts available at no additional cost.

STL mounts are also included in the firmware download package if you want to print your own or an aftermarket one.
The EZABL™ kit is a product designed, manufactured, and sold exclusively by TH3D to make adding automatic bed leveling (ABL) to your printer as easy as possible.
Everything from the hardware and firmware to use the kit is tuned for the best performance by us here at TH3D.
We use the highest quality parts in our sensors, on our boards, and even the cabling. This means you get an ABL kit that is not only easy to install and use but one that will perform. Don't be fooled by cheaper kits that use cheap parts to cut cost.
Firmware Download: Unified Firmware Package
NOTE: Everything you need (Sensor Mount STL files, Firmware, Arduino, Drivers) is in the Unified Firmware Package linked above.
The EZABL™ Pro Manual is located in the "My Downloads" section of your TH3D Account and will show after you complete your purchase.

Troubleshooting Information is Located in our Knowledge Base in the "EZABL" section.
Need help that our troubleshooting articles don't cover or have a question?
Send us a ticket by emailing Support@TH3DStudio.com or using the Contact Us.
EZABL™ Pro sensor (available in 2 sizes – 18mm and 12mm)
EZABL™ Pro Control Box (case and EZABL Pro control board)
3ft Power Wire
Sensor Calibration Screwdriver
Zip ties for wire management
90 Days Tech Support & Warranty Standard
TH3D EZABL™ Pro Installation Guide

PDF will be emailed to you after you purchase

Pre-Setup Firmware – Flash in under 5 minutes
Over 40+ different probe mounts in our EZABL™ STL Pack (part of the Unified Firmware Package)
Optional Add-ons

AC Power Adapter – Powers the kit from your wall outlet instead of the printer power supply
USB Power Adapter – Powers the kit from a USB port instead of the printer power supply
There are many options to add auto bed leveling to your printer. Many of them are difficult to install, use, and/or just use poor quality parts. Our US based support team handles over 10,000 support tickets a year and are trained on all our products.
We aim to set ourselves apart from the competition in many ways and refuse to cut corners when it comes to support or the hardware.
We believe that the 3D Printing Community is a key part of everyones success. We are the only ABL kit maker that contributes to the Marlin Firmware project through monthly donations to help fund the project. Our EZABL™ Kits would not be possible without this firmware to build our Unified Firmware on so we feel it is only right to help out the project through direct financial contributions.
The EZABL™ Pro is the next level when it comes to quality and features. Click here for Comparison chart.
What makes our kits different from our competitors? 
Our Latest EZABL™ Pro boards

Name brand capacitors
Name brand high-speed Opto IC
Self-test feature built-in
EZ Switch for swapping your Z endstop wires
Reverse Voltage Protection
3-Stage Power Filtering
Dual Power Connection Options

DC Jack
2 Pin Terminal for bare wires

Dual Z Endstop Connection Options

2/3 Pin JST XH
2 Pin Terminal for bare wires

Our Latest EZABL™ Pro Sensor

No temperature drift thanks to our custom designed sensors
Cable strain relief built-in
Super Speed 600hz Sampling Rate

Our sensors take readings over 600 times a second
Over 6x faster sampling rate versus our previous EZABL V3.X sensors
Up to 7x faster sampling rate versus our competition and DIY sensors

Lightweight PC-ABS Case (up to 50% lighter than the competition and our previous generation sensors)
Dual Layer shielded cables for the best EMI resistance and durability
Modular Molex Sensor Connection
Calibration Adjustment Screwdriver Included

Our Unified Firmware Package

Our own Marlin Distribution tuned for quick and easy setup
Guaranteed to work with your supported machine and NO coding experience needed
Adds not only support for our EZABL™ kit but numerous safety features and usability improvements over stock printer firmware.

Thermal Runaway Protection
Live Z Adjustment
EEPROM Enabled
OctoPrint Compatible

Our Support Team

We have an actual support team and every one is based in the US
Average response time is 2-3 hours typically
Multiple Community Groups set up for help outside of business hours
Phone/remote desktop support available for an additional charge

1 on 1 email support is included free of charge with every EZABL™ Pro Kit.
Quality of our products is extremely important to us. Because of this our kits are more expensive than our competition due to the higher cost of the parts and materials that go into making each kit. As the old saying goes "you get what you pay for".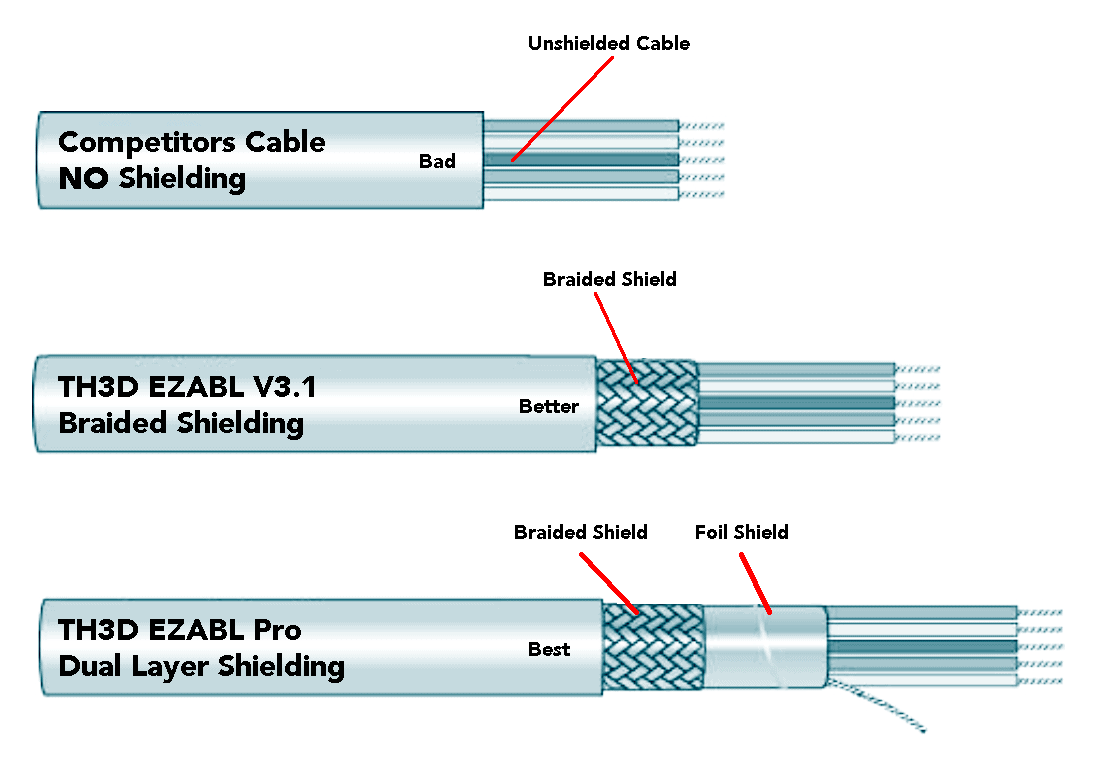 How Does the EZABL™ Mount?
The EZABL™ mounts to your printer hotend and we supply STL files for over 40+ different mounting options for the 25+ machines we support. There is a folder in our Unified Firmware Package that contains all the mounts that we have supported in the firmware so you can get setup without having to measure sensor offsets. You may need some M3 screws (or others depending on the mount) to mount the sensor and we have a screw assortment that covers all the sizes you may need for all the most popular mounts.
Can you include a sensor mount?
Absolutely! If it's one of the "OEM" style ones that are smaller we can include those free of charge. Free mounts are done in 100% US made Black PLA. We also can print ABS parts as well but it is not needed unless you are running inside an enclosure.
Just make sure to put a note above with the machine you have and what mount you want. If it is not the OEM you want then someone from TH3D will contact you via email with the price for the mount you requested. If it is a complicated one (like the HeroMe, PETSFang, etc) then we will ask you for the exact STL files you want printed to ensure you get exactly the setup you want.
Will I have to Solder?
Nope. Not at all.
Does the EZABL work on *insert surface here*?
The answer is yes to any printing surfaces. This includes glass, mirror, polyprop sheets, acrylic, aluminum, ezmat, pei, buildtak, and any other surface you print on. Unlike other solutions, the EZABL™ works on all print surfaces without requiring modification to the surface.
What is the difference between the EZABL™ Pro and the EZABL™ Pro Mini?
Only the physical size and the Mini weighs a few grams less. Some printers cannot fit a standard size probe so we came out with the Mini to fit those machines (example: Wanhao D6).
Do I need to have a bootloader on my printer?
Yes. You will need to update your printer with our awesome firmware package and that requires a bootloader. If you are not sure if your machine has a bootloader then check the Unified Firmware page and there is a chart on there that shows what machines need it.
Do I need to change my printer board to use the EZABL™ Pro?
Nope! We've spend hundreds of hours making firmware for all the machines we support and enabling tons of new features and safety improvements for your stock printer board. Check the Unified Firmware page to see what machines we support.
Will the EZABL™ Pro work with an AC Bed?
Yes! We've made major improvements to the new Pro sensors that make them work on AC beds that are properly connected with a quality SSR. If you use a good SSR (like the Mager we sell) then you will have no issues with your EZABL™ kit with an AC bed (and you can control the bed from your printer!)
Where is the EZABL™ Pro made?
The EZABL™ Pro is designed by TH3D and we use multiple suppliers across the globe to source the parts and assemble our custom EZABL™ Pro boards & sensors. All final testing, QC, and packaging is done here in the US. The EZABL™ Pro is not made in China.
Why is the EZABL™ Pro "so expensive"?
Because quality parts and excellent support people are not cheap. We don't focus on the race to the bottom like other companies. Quality and excellent customer service is the focus here at TH3D. If you want a cheaper kit check out eBay.
What about the "Direct Wire" or "EZ-Connect" Kits that were available previously?
We've simplified the product and made it very compatible by having both connection types on the new EZABL™ Pro Control Board. 1 Board to rule them all.
Do I have to make my own wiring harness or modify my board to use the EZABL™ Pro kit?
Nope! We supply all the wiring and a 1.5M sensor cable length with a modular connection. Unlike competitors that require you to modify your printer board or make your own wiring harness to use their sensors we supply everything to connect it and require no modification to your printer board.
Does the EZABL™ Pro Kit work with OctoPrint/EZPi?
Absolutely! We love OctoPrint and use it here. Every one of our production machines has an EZPi kit on it and our EZABL™ kit.
Have a question we didn't cover here?
No problem! Contact our Support Team with any questions you may have and we'll be happy to answer them!
Support/Warranty
Included Support: TH3D Standard Support

Support is on the product itself. Your computer must see the printer COM port to update the firmware. PC issues are the customers responsibility to resolve.

Warranty: 90 Days

Physical or Electrical Damage due to improper installation or use is not covered. Items are all pre-tested before leaving the shop.
Warranty may be extended above to 1 year OR 1 year + 4 hours of phone support, must be purchased when you order the kit.