LET THERE BE RGB LIGHT! Hello fellow kids! We heard you like the RGBs. Tired of trying to see your printer in a dark room or monitor your printer with your OctoPrint setup? Now you can have a dedicated light for your 3D printer that bolts up to the frame in just a few minutes. These strips use a thick, rigid PCB for easy mounting and heat dissipation. The 5050 size NeoPixel compatible LEDs on here work great with Marlin and many other control boards that support the NeoPixel protocol.
Check out our custom STL files to mount on different printer models here: https://support.th3dstudio.com/helpcenter/ezneo-extra-mounting-stls/
In addition to providing lighting so you can see your print easier, these will also cycle through colors like a progress bar as your printer begins its preheating cycle before a print. After the print starts they will turn white. Once the print finishes, they will turn green so you can glance over and see it is done*.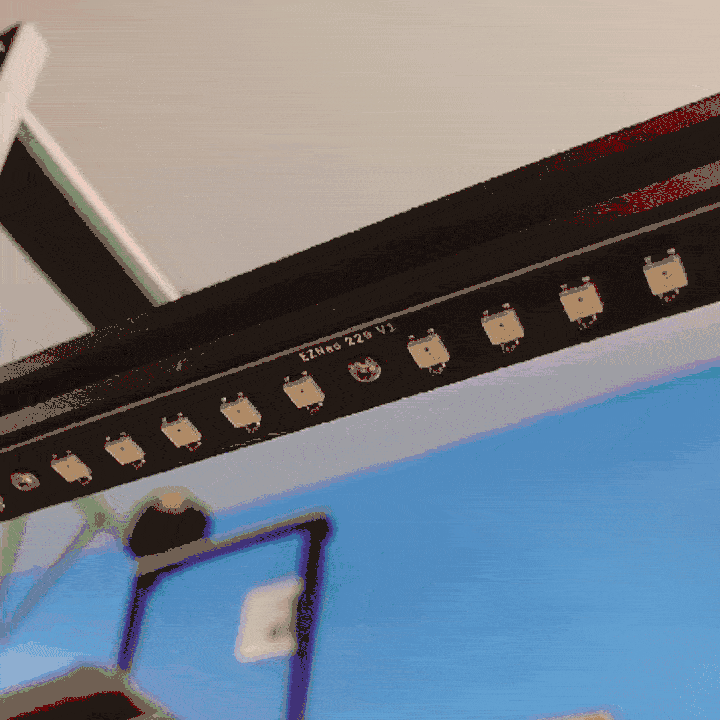 Setup Information
Looking for how to install and wire up the EZNeo? See our Help Center section for the EZNeo strips here: EZNeo Lighting Kits – TH3D Studio LLC
*When printing over SD the LEDs will automatically change to green. If you are printing over USB you will need to update your ending Gcode to get the Green on completion. See here for how to do that: EZNeo – Set LEDs to Green on Print End
Have a Touch Screen? If you have a touch screen LCD (like what is found on some Creality models) you will need to upgrade the LCD to a 12864 style to get support for LEDs on your printer. This is due to Creality using closed source, limited LCDs on their machines that are not modder/DIY friendly. We have many LCD kits for popular models here: LCD Upgrade/Conversion Kits – TH3D Studio LLC
GIGADEVICE AND OTHER CLONE CPU WARNING – If your board requires a "Maple" build environment these will not work because the clone CPUs use the "Maple" build environments and that environment is not compatible with NeoPixel libraries required to drive the LEDs. Creality boards with the GD32F303 series chips can use STM32 build environments and work with these LED kits.
---
Direct Plug-In Compatible Boards (Need no DIY wiring)
---
All Other Boards When used with a separate 5V power adapter/step down and a free IO pin you can use these strips on virtually any printer. Any IO pin that is used for a BL Touch, Endstop, or another general-purpose IO pin can be used to communicate with the EZNeo strips and the printer firmware. We have documentation for wiring them up with a step-down and setting them up for use with Marlin firmware in our help center here: EZNeo Lighting Kits – TH3D Studio LLC
Documented boards that need the universal power adapter:
Want another added to the documentation? Contact us to request it.
---
1284P "Melzi" Boards Due to memory and IO pin limitations, we do not officially support using the EZNeos on a 1284p board. 2560 CPU or higher required. If you are not sure if you have a 1284p board then contact support with a picture of your board. If you have a 1284p board and want to use the EZNeo you will need to upgrade to a newer board that has more IO pins and space on its CPU.
---
EZNeo220 Specs
Size – 220mm Long x 15mm Wide
Pixel Count – 15 Total Pixels
Power – 5V DC up to 1.0A Max
Signal – NeoPixel Library Compatible
30″ Cable for connection & power