What is the EZPi?
The EZPi is a pre-setup, tuned, and configured OctoPrint kit. OctoPrint is an open-source project that lets you easily control your printer from your computer, smartphone, tablet, or laptop. You can send your Gcode over to the EZPi through your web browser so no more tinkering with SD cards! You can also connect a USB camera to the EZPi to do monitoring and time-lapses of your prints. There are a ton of features that can be added in addition to what we load like PushBullet integration, YouTube Live Streaming, and much more!
The EZPi is a custom-built Armbian-powered OS image customized by TH3D for the best user experience with Octoprint. These are fully assembled and tested kits. All the hardware has been fully tested to correctly work together so you can have a very reliable and robust 3D printer control platform.
What is included?
Our Latest Custom EZPi R4+ Controller
Hexa-Core ARM CPU w/32GB of Storage & 4GB RAM
Built-in 802.11AC Dual-Band Wifi and GIGABIT Ethernet
Cables – AC Power Adapter (USB C 5V, 3A) & 10ft CAT6 Ethernet Cable
2020 Extrusion Mounting Bracket with Bolts and Roll-In T-Nuts
Technical Support from our US Support Team (Including Remote Support for Wifi Setup at NO additional charge)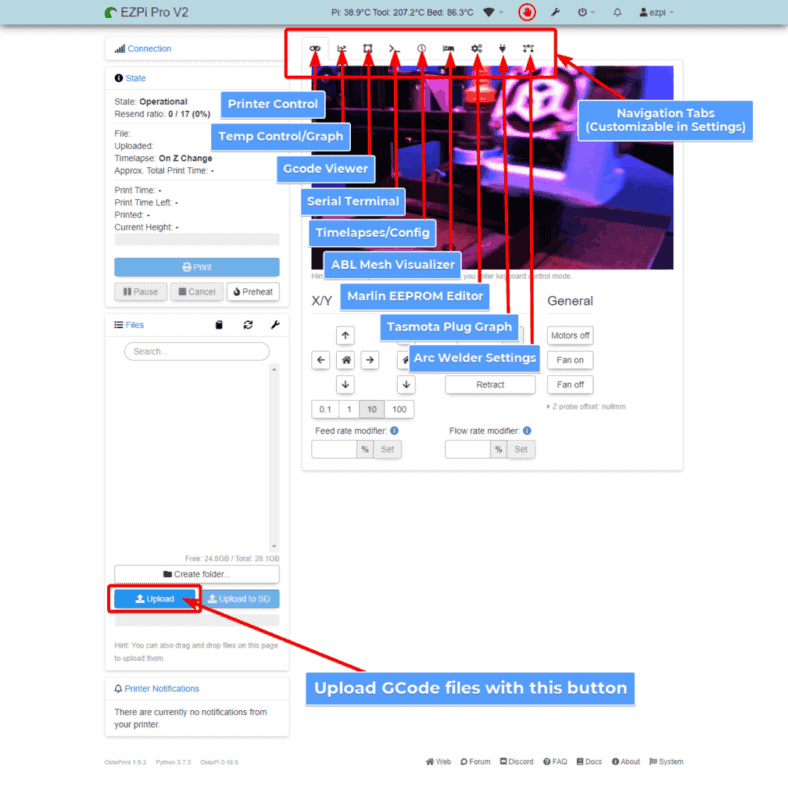 Documentation
Key features
Works over Wifi or Ethernet connection (ethernet cable included)

Automatic connection to your printer.

IP address of the EZPi will display on the printer LCD so you can easily find it on your network once it is connected to the printer.

Arc welder plugin for use with machines that have Arc Support enabled in their firmware

Built-in bed leveling visualization for printers equipped with an ABL (including EZABL) system

Built-in EEPROM Editor for Marlin (including Unified Firmware) Printers

Progress bar support for printers with M73 Support (Enabled in Unified Firmware)

Pre-heat button for current GCode file selected

Tasmota plugin pre-installed for use with Tasmota WiFi Outlets
Specs
This kit contains the RockPi 4 Series Board for its SBC

OS is Armbian with customizations by TH3D to run Octoprint

Ships fully assembled and pre-tested by us

High-quality, Silent case included

Works with a

Wired or Wireless Network Connection.

32GB MicroSD Installed and Pre-Loaded with TH3D EZPi R4+ Image

3 Amp USB C Power Adapter included
Warranty Information
6 Months Warranty -  Our warranty covers any and all defects with the product. If your product fails or has problems within the warranty period you can contact our support team by using the Contact Us link.
Damage/Failure due to improper installation, improper usage, failure resulting from an issue with the machine the product is installed on, 3rd party products connected to our product, and/or modification of the product are not covered under warranty.
---
OctoPrint is a Registered Trademark of Octoprint.org