Description
Why would you want this product? If your stock layer fan died on your machine and you want to keep the same cooling setup this is a direct replacement for the printers listed below. This may also fit other machines so if you contact us via our Live Chat or email with pictures of your existing fan we can let you know!
Compatible Machines:
CR-10, CR-10S (Standard, Mini, S4, S5) – Layer Fan
Ender 2 – Addon Layer Fan (Fits OEM Bolt Holes)
Installation Notes:
Be sure to check the polarity on the wires you are connecting our fans to. Typically red is positive and black is negative but some of the Chinese printers to not adhere to these standards.
When replacing a fan you will want to splice into the existing wire to your existing fan. Connect the wires with solder and heatshrink OR use our Quick Solder connectors.
There is no list of what machines use what as it can vary from model to model and we have even seen differences in wiring colors used in the same printer models.Our fans use red for positive and black for negative. You can verify polarity with a cheap $10 multimeter from Amazon or you local hardware store. If fans are shorted out/killed due to improper wiring this is NOT covered under warranty.
Tech Specs:
4010 Blower Fan – 12V 0.1A +/-10%
Great for Layer Fan Use – Direct Replacement for Stock Blower Fan on many printers (See above)
Noise: 30 dBa +/-10%
RPM: 9500 +/-10%
Dual Ball Bearing Design – 50,000 Hours MTBF
Air Flow: 3.3CFM +/-10%
3″ Red/Black Power Lead with 2 Pin JST Plug
Wire Length: 5″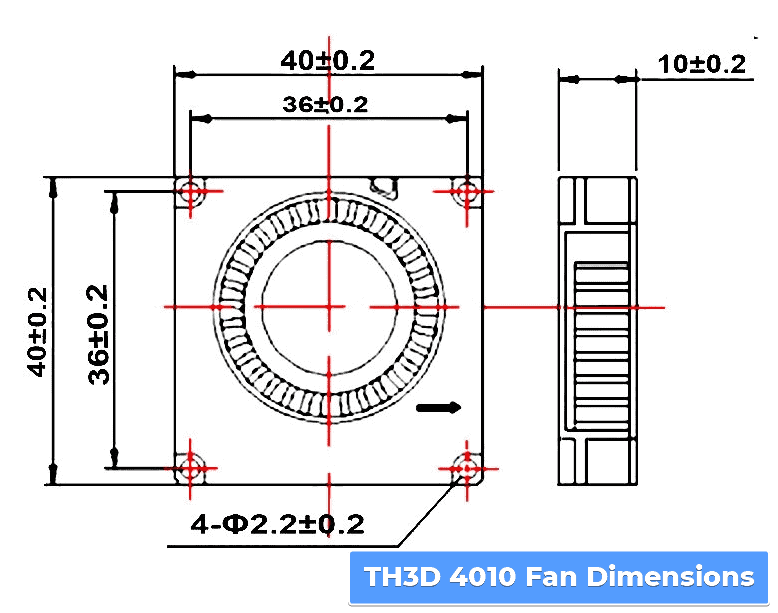 ---
Part Fitment/Installation
This is a universal 3D printer part. That means it will work on almost any 3D printer (check your printer voltage and part voltage) with the correct mount for your specific machine. Thingiverse is a wonderful place to locate mounts and we also have printed parts in our shop for some universal parts.
It is up to you to determine and select a mount for your specific printer model (or design one) to install this part on your machine and wire it up to your machine (if applicable). You are welcome to Contact Us for recommendations for your particular printer model for mounting options that are available online if searching yourself does not yield any results.