Compatible Machines:
Ender 3/3 V2/5/5Plus

Hotend and Control Box
Install Notes – Depending on your revision you may need to widen the holes a little on the fan screw holes themselves (use a file or drill bit slightly larger than the stock holes) to get them to slip over the metal posts, or use slightly longer screws.

CR-10S Pro

Hotend Fan and Control box Rear

Tevo Tornado
Geeetech A10 V1
Sunlu S8
Wanhao D6

Hotend, Layer Fan, and Control Box

Wanhao i3 Mini
Installation Notes:
Tech Specs
Airflow: 6.7 CFM
Voltage: 24V DC
Noise: 25dBA
RPM: 6000
Power: 1.4W
Wire leads: 2 wire
Life Rating: 50,000 hours (5+ years)
Other features:

Reverse Polarity Protection
Auto Restart

2 "UY" quick connectors for solder-free installation

See picture below for how to use. Use WIDE pliers and apply equal force.
Make sure wires are straight and centered in the connector before squeezing.
Quick Connectors Information
Please read our documentation on using the included UY connectors here: How to use our Fan Quick Connectors (UY Style)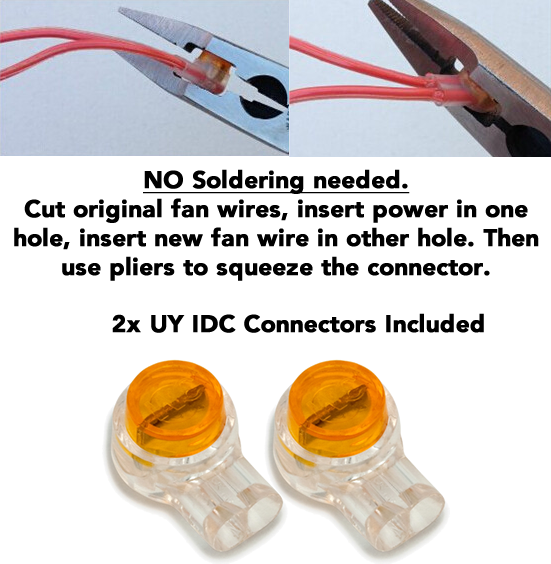 Warranty & Support Information
Technical Support: TH3D Community Support
Technical support with for product it is handled through our TH3D Communities. You can get access to them on our Community Page. If you require consulting time direct from the TH3D team to use/install the part it is available for an additional, hourly consulting charge.
Warranty Length: 3 Months
Our warranty covers any and all defects with the product. If your product fails or has problems within the warranty period you can contact our support team by using the Contact Us link. This is for warranty related issues only, not technical support. Damage/Failure due to improper installation, usage, failure resulting from an issue with the machine the product is installed on, and/or modification or the product is not covered under warranty