Compatible Machines:
Universal – This works with any 24V printer when you use a hotend mount that supports a 5015 Layer Fan.
Installation Notes:
Be sure to check the polarity on the wires you are connecting our fans to. Typically red is positive and black/blue is negative but some of the Chinese printers to not adhere to these standards.

There is no list of what machines use what as it can vary from model to model and we have even seen differences in wiring colors used in the same printer models.

Our fans use red for positive and black(or blue) for negative. You can verify polarity with a cheap $10 multimeter from Amazon or you local hardware store.

If fans are shorted out/killed due to improper wiring this is NOT covered under warranty.
Tech Specs
5015 Blower Fan
Great for Layer Fan Use
New V2 Fans work without capacitors or the "FAN_FIX" option in firmware
24V up to 0.1A power Draw
DUAL Ball Bearing for 50K+ Hours of runtime
CFM Rating: 5 CFM
RPM: 5200 RPM
Noise: 37dBA Noise
3″ Red/Black Power Lead with 2 Pin JST Plug
90 Day Warranty
Wire Length: 3″
2 "UY" quick connectors for solder-free installation

See picture below for how to use. Use WIDE pliers and apply equal force.
Make sure wires are straight and centered in the connector before squeezing.
Quick Connectors Information
Please read our documentation on using the included UY connectors here: How to use our Fan Quick Connectors (UY Style)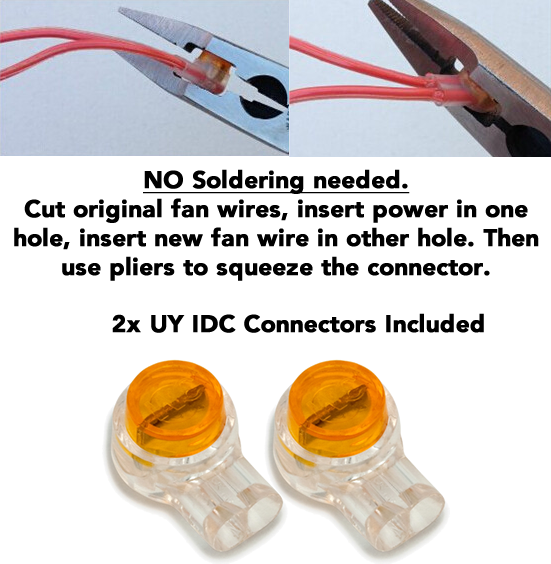 Warranty & Support Information
TH3D Community Support - Technical support with for product it is handled through our TH3D Communities. You can get access to them on our Community Page. If you require tech support direct from the TH3D team to use/install the part it is available for an additional, hourly charge.
3 Months Warranty -  Our warranty covers any and all defects with the product. If your product fails or has problems within the warranty period you can contact our support team by using the Contact Us link. This is for warranty related issues only, not technical support. Damage/Failure due to improper installation, usage, failure resulting from an issue with the machine the product is installed on, and/or modification or the product is not covered under warranty