Back in August BigTreeTech was sending out some boards with the GD32 CPUs that are STM32 clones on them. These chips had odd compatibility issues with Marlin and other firmware that required workarounds and patches to code to get them running. These CPUs are not STM32 licensed cores and running standard STM32 code on them may cause stability issues due to these internal differences.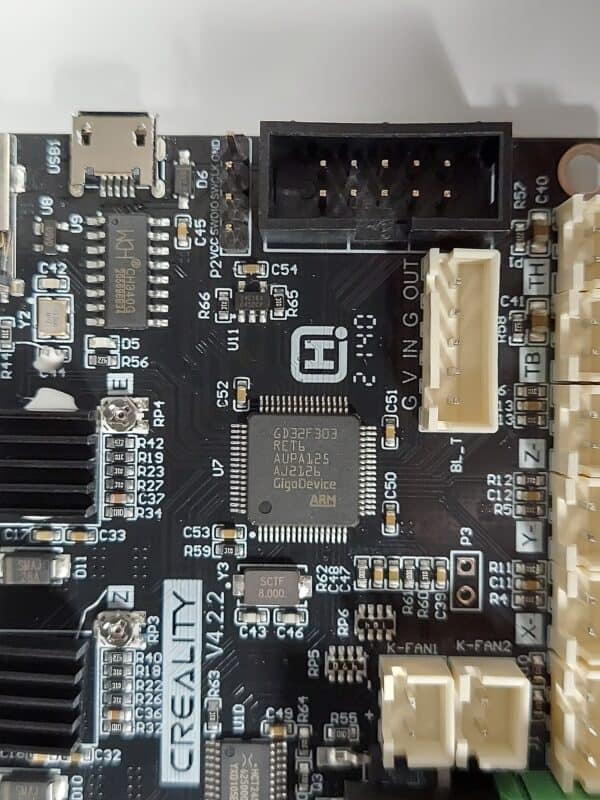 We are working on getting one of these boards in to start testing and we've let the Marlin team know that they are out in the wild now. If you have one of these Creality boards with the clone CPUs on them it is advised to leave the stock firmware on them or replace them with a different board like the V4.2.7 board or our EZBoard V2 if you want to flash custom firmware ASAP.
We are not sure if these CPUs are also found on the V4.2.7 but it could be possible. If you purchase a V4.2.7 from us you will get a genuine STM32 CPU as we check them before selling. We would expect that the Marlin team will be able to get these officially supported in the future but that may be a while out.
If you are a customer of ours and have one of these boards with the GD32 clones on them, we recommend replacing the board with one that is already supported in our firmware or waiting for the firmware to be updated to work with these boards (which will likely be many months out, we do not have a solid ETA until we know how complicated this will be to integrate). While it could be possible that the existing code could work on these CPUs we cannot guarantee the safety or stability of the code on them due to the CPUs being clones and not genuine STM32 processors.