Creality Dual Extruder Upgrade Board (V2.1/V2.2) – 2nd E Motor & Cable Included – CR-10/CR-10S/CR-20/Ender 3/Ender 5
$99.99
Genuine Creality CR-10S Dual Extrusion Board customized for TH3D
Upgraded 220uF C4 Cap – No Temperature Issues
DUAL Extruder AND Hotend Support

Compatible with CR-10S Filament Sensor
Compatible with EZOut and EZABL Kits
Full GPL Compatible Firmware Included (Unified Firmware)
Compatible with CR-10, Ender 3, CR-20, and CR-10S LCDs
Genuine Creality E Stepper Motor AND cable included
A4988 Drivers for full compatibility with Linear Advance
TH3D 90 Day Warranty
Out of stock
Product Info
This is a real Creality CR-10S board that has been customized exclusively for TH3D. We worked with Creality to get the E1 Stepper driver installed so you can do DUAL colors and DUAL hotends on the machine.
Works with the following printers:
CR-10 (ALL Sizes)
CR-10S (ALL Sizes)
CR-20
Ender 3
Ender 3 Pro
Ender 5
NOTE: The CR-10S Pro is NOT compatible as it is a completely different model from the CR-10S series. The CR-10S Pro is a CR-10S Pro, Not a CR-10S.
Info on dual Extrusion methods, STL files for mounting hardware, and more here (continually updated): Dual Extrusion Setup Information
This board is supported in our Unified Firmware so that you can easily set up a dual hotend or 2 into 1 hotend setup.
Genuine Creality CR-10S Board customized for TH3D

PCB will show V2.1/V2.2 depending on stock
All versions function the same and are compatible with the TH3D Unified Firmware

Upgraded 220uF C4 Cap – No Temperature Issues
DUAL Extruder AND Hotend Support

Works on 12V and 24V
Compatible with CR-10S Filament Sensor
Compatible with EZOut and EZABL Kits
Full GPL Compatible Firmware Included (Unified Firmware)

Testing firmware is loaded so you MUST flash firmware for your machine setup upon receiving. Use the Unified Firmware to do this.

Compatible with CR-10, Ender 3, Ender 5, CR-20, and CR-10S LCDs

Single cable LCDs will connect to EXP1 on this board but rotated 180 degrees. The alignment tab should not go into the cutout on the EXP1 header.

Stepper Drivers: XYZE – Allegro A4988
Genuine Creality E Stepper Motor AND cable included
Note: Do NOT ever plug/unplug a stepper motor when your printer board is powered. This can damage the stepper driver.

We recommend checking the VREF adjustments on the drivers if you get layer shifts. The boards ship with VREFs set from Creality. Recommending VREF settings: X – 0.8V, Y – 0.9V, Z – 1.0V, E0/E1 – 0.9V

Warranty does NOT cover damage from wiring mistakes and/or improper installation. Check all your wiring before powering on.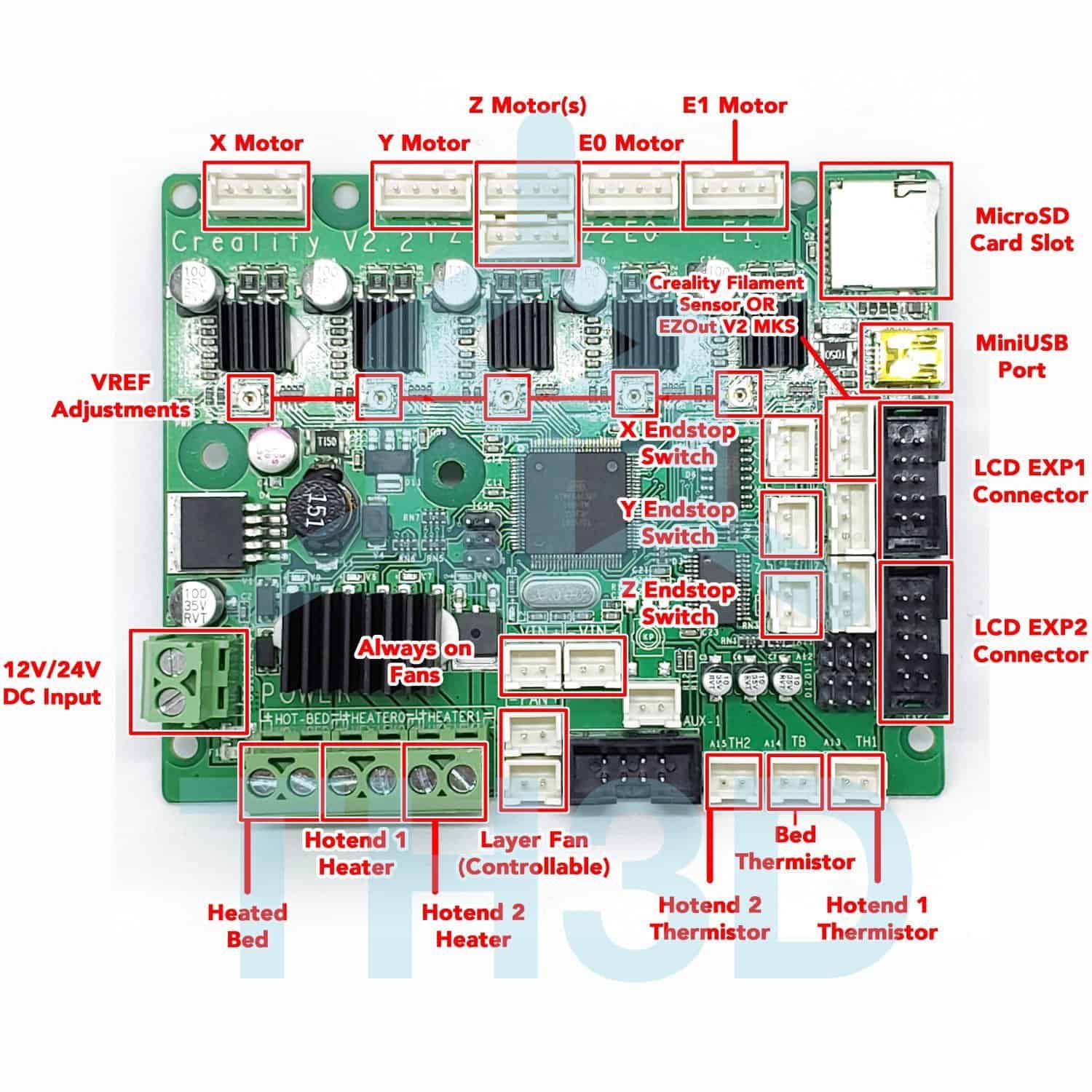 Warranty & Support Information
Technical Support: TH3D Community Support
To get technical support with this product it is handled through our TH3D Communities
Technical support is not included through the TH3D Helpdesk at no charge

You are welcome to ask quick questions about a Community Support product through our helpdesk but in-depth 1 on 1 technical support is not included.

If you require require a more personalized level of technical support it can be purchased separately in 1 hour blocks of time. Contact Us to get a time-slot paid for and scheduled through one of our technicians.
Warranty Info: 90 Days Warranty
Our warranty covers any and all defects with the product.
If your product fails or has problems within the warranty period you can contact our support team by emailing Support@TH3DStudio.com or by using the Contact Us link.

This is for warranty related issues only, not technical support.

Damage/Failure due to improper installation, usage, failure resulting from an issue with the machine the product is installed on, and/or modification or the product is not covered under warranty
Share your thoughts!
Let us know what you think...