Description
Click here for installation directions. Does NOT fit the "NEO" series if you have the silver color hotend. This only works with the standard red-colored style hotend (and CR-10 V2/V3 Stock silver hotend) as shown below and in the product pictures. If you hotend does not match the pictures below then measure your existing heatbreak to compare to the measurements below to verify it if will fit. We are not responsible for improper fitment because you did not check your existing heatbreak .
Fits all machines listed below

Ender 2/2 Pro/3/3 MAX/3 V2/4/5/5 Plus/6
CR-10 (Standard, Mini, S4, S5)
CR-10S (Standard, Mini, S4, S5)
CR-10 V2 and V3
Sovol SV01/SV03
Sunlu S8 
Sunlu S8 Pro

Smooth internal bore
Transfers much less heat than steel or PTFE Style Heatbreaks for lower heat transferred to upper cold end heatsink
Made from TC4 Titanium Alloy (lower) and Copper (upper)
Heatbreaks are delicate parts.

Never tighten your nozzle without holding the heater block with pliers. Doing it without can break the transition zone (the thinnest part).
Nozzle crashes can also bend the heatbreak. If your heatbreak is bent in a nozzle crash slowly try to bend it back to the original position.
Our warranty does not cover damage to the heatbreak from over-tightening or nozzle crashes, only defects in the product itself.

Product Dimensions:

Inner Diameters: 4mm at the top, 1.88mm about 5mm deep. This holds the PTFE tube in the top and does not allow it to go all the way through.
Outer Diameters: 7mm (smooth section), 2.6mm (throat), 6mm (threading)
Lengths: 20mm (smooth section), 2mm (throat), 5.5mm (threading), 27.5mm (overall)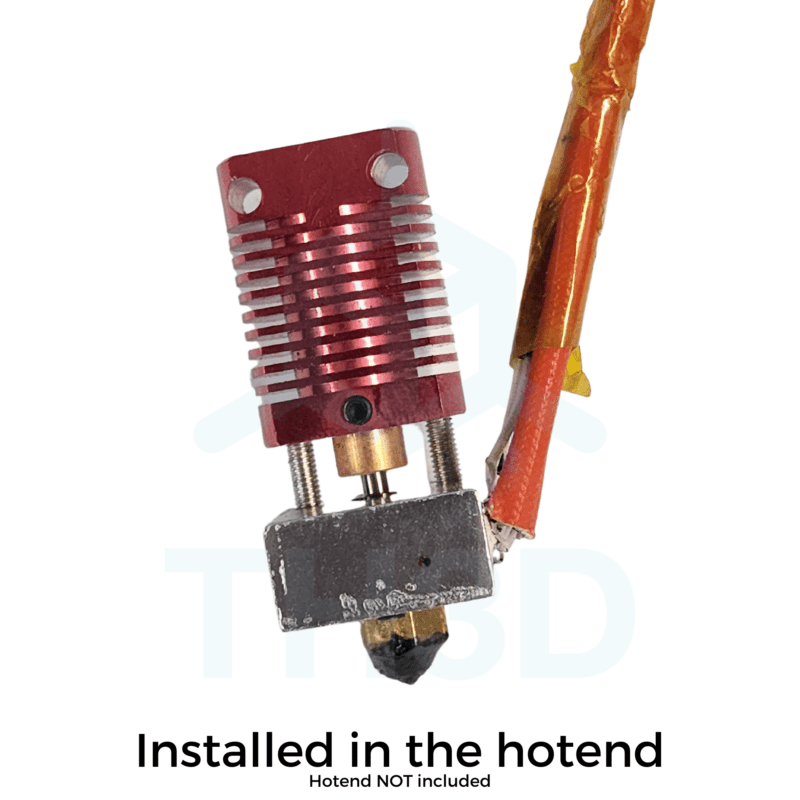 Tips for Using This Heatbreak
Installation directions: Heatbreak Installation Information
Oil it – We recommend if you are getting jamming with PLA (this can happen with ALL METAL heatbreaks from any manufacturer) to print a filament oiler. Like this one: https://www.thingiverse.com/thing:492067. Stuff it with a sponge or fiber then lightly wet with CANOLA oil. This will oil the filament path and keep the PLA from sticking to the heatbreak on a longer retract. After using this for about a month or two your heatbreak should have a nice "seasoning" on the inside and use of an oiler will be needed less or not at all.
Lower Retraction – Stick to under 3mm retractions. All metals will need less retraction than a PTFE lined hotend. 25-50mm/s depending on your machine setup. Wipe is recommended (2-5mm).
Thermal Paste (Optional, but recommended) – When installing the heartbreak you can apply thermal paste/grease (like what is used on computer CPUs) to the outside that inserts into the heatsink before installation. This will improve thermal transfer from the heatbreak to the heatsink.
More Details on All-Metal Hotends – Detailed write up on using all metal hotends: Using your All Metal Hotend