Description
Added Bonus EXCLUSIVE to TH3D Customers
Includes a free 3 month or $5 off 1 year of our Unified 2 Firmware package. Coupon will be emailed to you after checkout and will work on ANY Unified 2 Firmware Package in our store here: https://www.th3dstudio.com/product-category/unified-2-firmware/
Upgrade your printer to print exotic and high temp materials (up to 320C). Real all-metal assembly, even in the heatbreak, unlike other cheap hotends on the market. This is a great hotend for the price if you're looking for a solid, budget all-metal hotend with a lot of upgrades available for it.
Tips for Using This Hotend
Read our article about using All-Metal hotends here: Using your All Metal Hotend
Technical Specs
Fully Compatible with all "V6" Style hotend Mounts – The Tough Hotend is made from the GPL V3 Open Source V6 design and is compatible with all "V6" style hotend mounts – CAD Model TRUE All Metal Heatbreak (not PTFE lined) Multiple Nozzles Included for larger diameter and printing abrasive filaments – 0.4mm Brass, 0.6mm Brass, 0.4mm Steel, and 0.6mm Steel Nozzles Included Compatible only with 1.75mm Diameter Filament If you print over 260C you may need to insulate the heater block from the cooling fan to reach high temperatures. We sell Silicone Socks separately,  you can add them above.
Parts Included
1 Meter PTFE Tubing 2x PTFE Fittings (one for hotend and one for extruder) 2x 100K NTC 3950 Thermistors (About 2-meter length with JST-XH 2-pin termination) Use Marlin #1 Thermistor Setting (Creality Printers and Anet use #1 by default) – Support in Unified Firmware for these and all TH3D Thermistors Max temperature is 320C 40W 12V Heater Cartridge 40W 24V Heater Cartridge 30mm 12V Fan with shroud 30mm 24V Fan with shroud
TH3D MultiMount Supported
This hotend works with our popular MultiMount system and all the printers the MultiMount Supports. Our MultiMount supports many of the popular Creality printer models. Check out the MultiMount System Here: MultiMount System by TH3D for Groovemount Hotends (V6/Revo6/Mosquito/DragonflyBMO)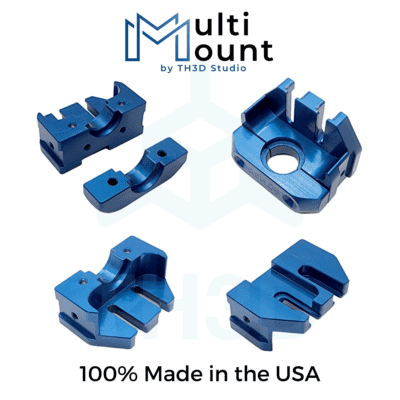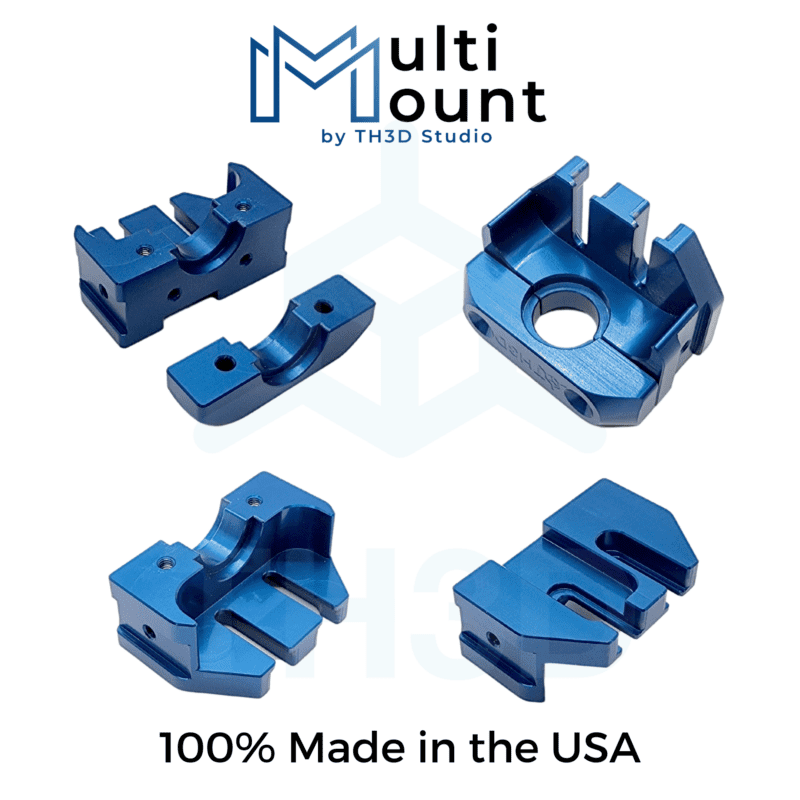 Printed Mounts
Below are links to mounts that work with this hotend for popular models. If your model is not listed go to Thingiverse and search "your printer model V6 Mount". We also do printing so if you need a mount printed please submit a print request to us for a quote.
Creality 3D Printers
CR-10/CR-10S/Ender 3/Ender 3 Pro Models
Ender 5/Ender 5 Pro/Ender 5 Plus Models
DISCLAIMER: All these mounts are community designs. TH3D Studio LLC is not responsible for any issues with these 3rd party links. They are provided for convenience to you so you do not have to search for mounts. This hotend is compatible with almost every "V6" type mount for any printer model.
Assembly Video
V1 vs V2 Assembly – The assembly of the V2 is the same as the V1 except for the thermistor slides in and is secured in with the grub screw on top of the heater block. DO NOT OVER-TIGHTEN THE THERMISTOR GRUB SCREW AS IT CAN DAMAGE THE THERMISTOR.
---
Part Fitment/Installation
This is a universal 3D printer part. That means it will work on almost any 3D printer (check your printer voltage and part voltage) with the correct mount for your specific machine. Thingiverse is a wonderful place to locate mounts and we also have printed parts in our shop for some universal parts.
It is up to you to determine and select a mount for your specific printer model (or design one) to install this part on your machine and wire it up to your machine (if applicable). You are welcome to Contact Us for recommendations for your particular printer model for mounting options that are available online if searching yourself does not yield any results.