TH3D EZBoard Lite for Creality Printers
From: $99.99
Drop-in Replacement for your Creality Printer (see list of supported machines below)

No parts to print, no physical modification of your printer needed to install the board.

32 Bit CPU for Fast Printing and all the latest Features
Running the latest Marlin 2.0 firmware

TH3D will continually keep the firmware up to date as new features are added to Marlin 2.0
Simple configuration for the firmware just like our Unified Firmware U1 that everyone is familiar with

SILENT Trinamic TMC 2208 Drivers in UART mode for Silent Printing
Product Info
Key Features
100% Drop-In Replacement Board

NO Soldering
NO Cutting Wires

Please Note: If you have tinned wires remove the ends and insert bare wire. Tinned wires over time will damage any screw terminals.

NO Printing Adapter Parts

Works with Multiple Creality Models

CR-10 (Regular, Mini, S4 S5)
CR-10S (Regular, Mini, S4 S5)

Needs Creality Dual Cable LCD Adapter Board if you do not have the EXP3 header on your LCD.

If you have the EXP3 header on your LCD use 1 cable to connect from the EXP3 to our board and you will then not need the dual adapter board.

Does NOT work with Touch Screen Models

Ender 3
Ender 3 Pro
Ender 5
Ender 5 Pro

Silent Trinamic TMC 2208 Stepper Drivers running at 1/256 Stepping

UART enabled for driver configuration and data
Change Modes with the LCD or GCode
Change Motor Current (VREF) from the LCD or Gcode
SpreadCycle and StealthChop2 take 1/16 signals from the CPU and interpolates them to 1/256 for smooth motor control

4 Layer PCB with 2oz Copper on EVERY layer for Durability and Heat Dissipation

TMC 2208 Drivers Require a 4 Layer PCB and 2oz Copper
Other boards use 2 layers and 1oz copper and will overheat over the lifespan of the product when using TMC2208s
Some competitor boards advertise 2oz but that is only on the outer 2 layers. Our board is 2oz on every single layer.

Runs TH3D Unified Firmware 2.0

Based on Marlin 2.0
Easy Printer Setup like you know from our Unified Firmware
GPL V3 Source Code Provided to EZBoard Customers

32 Bit CPU for all the latest Marlin 2.0 features now and in the future

No slowdowns when running all the latest Marlin Features
No USB printing bottleneck like with 8 bit boards

MOSFETs over specced for cool operation and long life

Handles over 50A of Power per MOSFET

Dual Controllable Fan outputs

FAN 1 – Layer Fan Output – 0.5A Rated
FAN 2 – Connect your Controller fan to shut off when not printing – 0.5A Rated

Compatible with single and dual cable Creality LCDs

Dual Cable Requires the Creality Dual Cable LCD Adapter board

Other Connections On-Board

Servo Header for BL Touch Use
Filament Sensor Connection (works with EZOut sensors)

Other Features Included

Works with our EZABL Kits (all versions)

If your ABL sensor is not reading triggered/open please see this article here on how to connect using the SERVO header with 2 jumper wires that works.

Includes dual Z stepper adapter cable for machines with 2x Z motors
Bed output rated up to 13A. If you have more than that add on the MOSFET above.
Installation Materials & Firmware
We also have an automated web tool to make your firmware in under 5 minutes with NO software needed on your computer. Check it out at https://EZFirmware.TH3DStudio.com.

PLEASE NOTE: All EZBoards ship with a test firmware that is for testing the boards. You must flash firmware for the machine you are installing it in for the board to work.

Installation Video (Ender 3):
Support/Warranty
Included Support: TH3D Community Support

Must have a working Windows or Mac PC to flash firmware.

Warranty: 90 Days

Warranty does not cover improper installation, wiring shorts, physical damage, or other electrical damage to the board.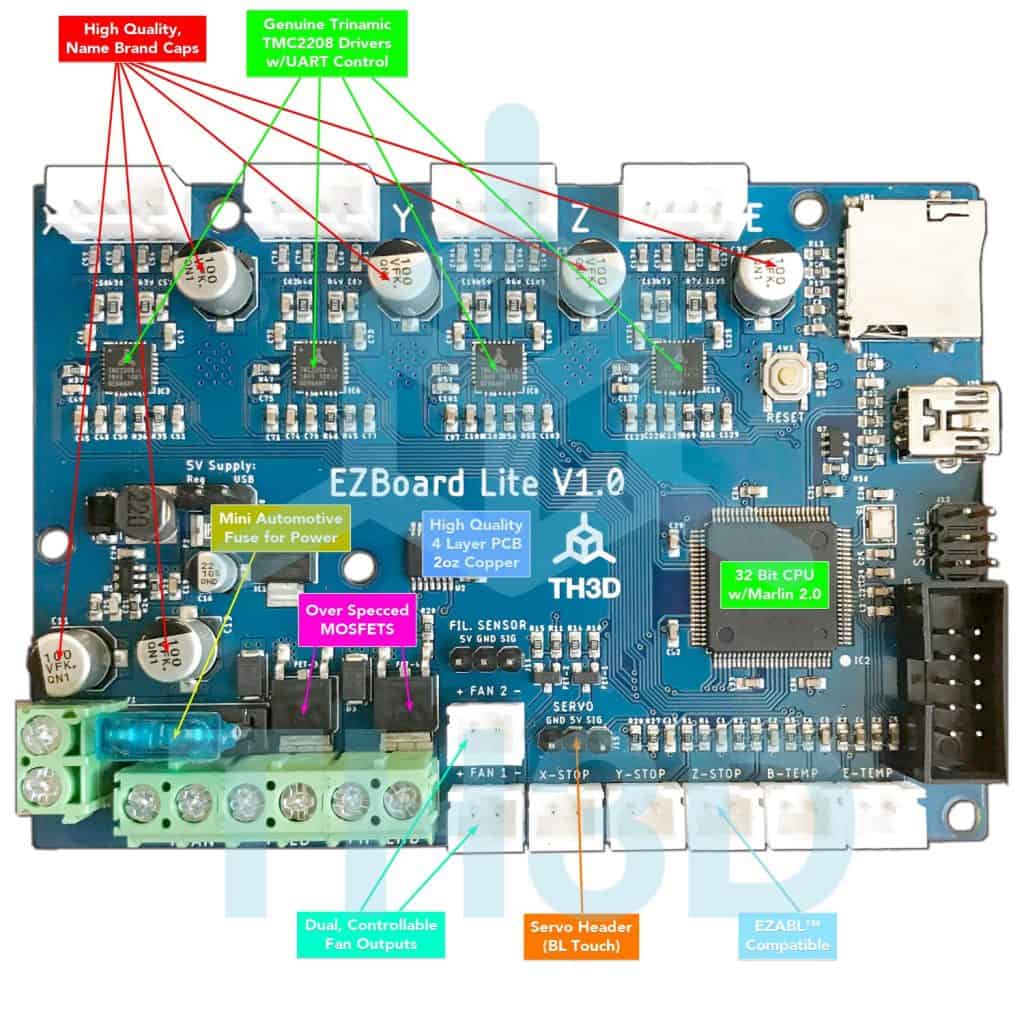 Share your thoughts!
Let us know what you think...