High-Quality, Packed with Features, Easy to Use, & Technical Support
Our EZBoard V2 is the latest board from us at TH3D Studio. This board is a drop-in replacement for many printer models from Creality and Sovol. To verify compatibility see the Supported Printer list below.
If you are looking for a high-quality, reliable board that doesn't require you to know programming to use, then this is the board for you.
Unmatched Support – In addition to being physically made well, we also provide 1 on 1 technical support through our TH3D Help Desk and TH3D Live Chat.
Painless Firmware Updates – We also have an exclusive firmware website, called EZFirmware, that allows you to compile firmware without ever touching VSCode or complicated programming options.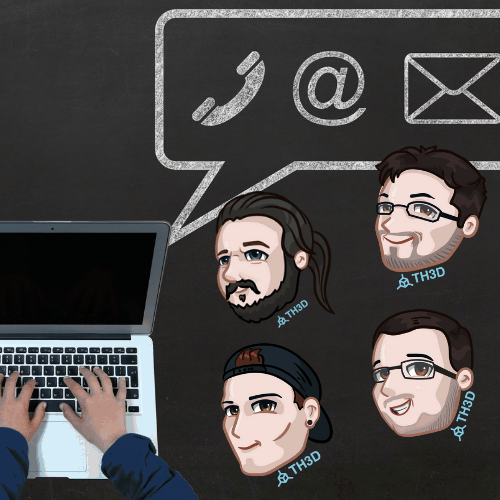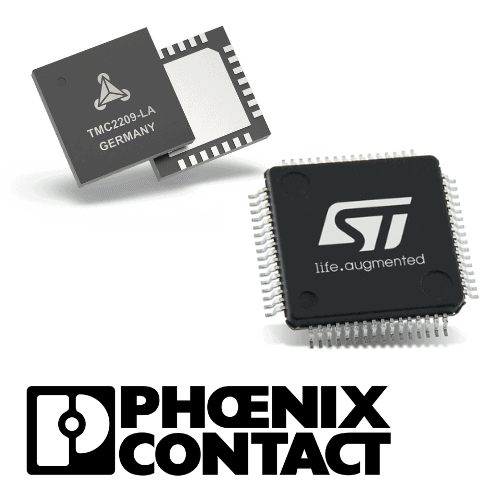 Build Quality – We use only high-quality and original parts on our boards and our PCB is 4 layers with 2oz copper on every layer. Our screw terminals are from Phoenix Contact. The other components on our boards are name-brand with tight tolerances. This means your EZBoard will last for years to come and give you a reliable board for your printer.
Genuine ST CPU + EEPROM – Our EZBoard is powered by a Genuine ST Micro F4 series CPU running at 168mhz with a whopping 1MB of flash memory. We also have a dedicated 4K EEPROM chip for your EEPROM settings. Unlike other companies who are swapping CPUs to lesser brands we guarantee that our boards come with a real STM32 CPU and not a clone.
Trinamic Drivers – The drivers are Trinamic TMC2209 drivers that provide up to 2A per motor of continuous current and are fully configurable from the firmware thanks to the UART connection between the drivers and CPU. Need to change motor current or mode? You can do it right from the LCD or Gcode.
Tested in-house, Not on Customers
The EZBoard V2 has been in development for almost a year now and we've racked up over 1000 hours of print time on them before ever selling a single one. We've performed extensive testing on these boards to make sure thermals are good and there are no electrical issues. You have our word and promise that we will not sell you a board that is not done.
Many vendors that sell cheap boards in the 3D printing market have a history of selling boards that have major issues and/or are not even 100% working when they are sold. Here at TH3D, we believe in selling products that are 100% working and not using our customers as guinea pigs to test things out.
Supported Printers
CR-10 (Regular, Mini, S4 S5)
---
CR-10S (Regular, Mini, S4 S5) – Usually needs Creality Dual Cable LCD Adapter (addon above)
If your CR-10S LCD has an EXP3 plug on it then you do NOT need the Dual Cable LCD adapter.
Does NOT work with Touch Screen Models
CR-10 V2 and CR-10 V3 are not supported due to mounting differences with the stock board
---
CR-20 – Needs CR-20 specific Dual Cable LCD Adapter (addon above)
---
Ender 2
---
Ender 2 Pro – Requires cable adapter kit
---
Ender 3/3 Pro
---
Ender 3 V2 – Needs LCD swapped.
See here for details: Ender 3 V2 – Swapping to the 12864 Creality LCD for more features – TH3D Studio LLC
---
Ender 3 MAX
---
Ender 5/5 Pro
---
Ender 5 Plus – Needs other addons/upgrades listed below
Needs the 12864 LCD Conversion Kit and the Creality Dual Cable LCD adapter (addon above)
Does NOT work with the stock Touch Screen, only with the 12864 LCD Conversion linked above
---
Sovol SV01
---
Sovol SV03
---
Sovol SV06 – Requires extra wiring for the stock ABL sensor.
You can re-wire and modify the stock ABL 5 pin plug or use jumper wires to make the connection. See here for details and pictures: https://support.th3dstudio.com/helpcenter/ezboard-v2-sovol-sv06-stock-abl-sensor-wiring/
Note that this is only required for the stock ABL sensor. If you are also converting to our EZABL kit then you will not need to use the stock ABL sensor plug.
Technical Specifications
V2+ Edition – Includes EZBoard V2, MiniUSB Cable, and 4GB MicroSD Card
CPU – STM32F405RGT6 – 168mhz, 32-Bit, 1MB Flash, 192K RAM
Official Firmware – TH3D Unified 2 (Marlin 2.0)
Voltage Compatibility – 12-24V DC Input
PCB – 4 Layers, 2oz Copper every layer
Stepper Drivers – 4x Trinamic TMC2209 in UART Mode – 2A RMS, 2.8A Peak Output, Sensorless homing capable
Hotend Output – Up to 8A Max Load*
Heated Bed Output – Up to 13A Max Load*
2x Fan Outputs – Up to 2A Max Load*
Filament Sensor Port – Works with our EZOut sensor and OEM Creality/Sovol sensors
NeoPixel Port – Onboard port for powering up to 2A of 5V NeoPixels directly from the board
BL Touch Port – BL Touch (SERVO) header Onboard
5V Rail Isolation – Prevents backfeeding USB power to the PSU input terminal
Other Details & Features
Onboard 4K EEPROM Chip
Onboard Dual Z Motor Output headers (parallel)
Hotend Thermistor VIN short protection
Bed Thermistor VIN short protection
Flyback Diodes on all MOSFETS
Serial Header Onboard
*The EZBoard V2 comes with a 15A main fuse. Exceeding 15A total draw will blow the fuse. Up to 20A fuse can be used for higher load machines.
Warranty Information
6 Months Warranty -  Our warranty covers any and all defects with the product. If your product fails or has problems within the warranty period you can contact our support team by using the Contact Us link.
Damage/Failure due to improper installation, improper usage, failure resulting from an issue with the machine the product is installed on, 3rd party products connected to our product, and/or modification of the product are not covered under warranty.